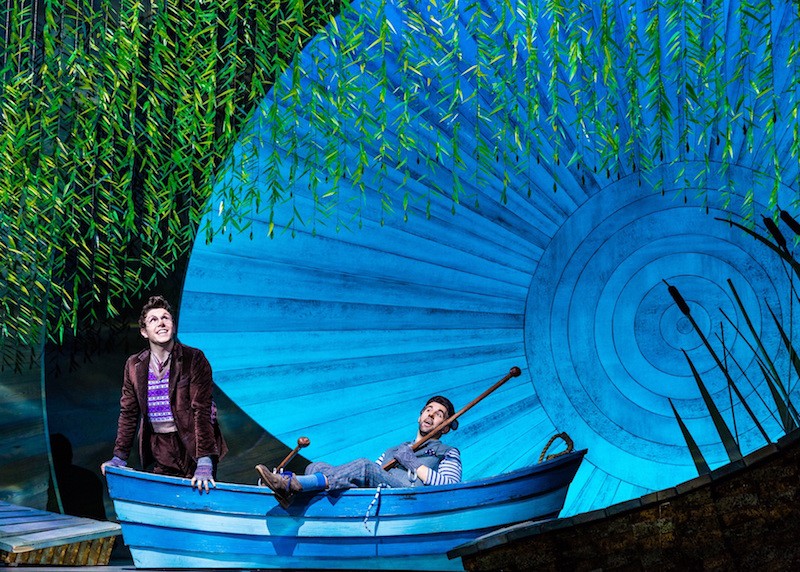 The perennial children's classic tale of riverside animals, Wind in the Willows by Kenneth Graham, has been transposed to the West End stage at London's iconic London Palladium theatre, by Julian Fellowes, George Stiles and Anthony Drewe.
Harriet loves going to the theatre but I was slightly worried about going to an evening press performance of Wind in the Willows as it started only a little before her normal bedtime. I needn't have worried, Harriet was enchanted from start to finish. She hasn't read the book yet – we managed a couple of chapters en route – so everything about the story was new to her.
This production is magnificent: spectacular sets, brilliant performances especially from Chris Aukett who stood in for Rufus Hound who was unwell to play Mr Toad. I loved the interplay between Rat (Simon Lipkin) and Mole (Craig Mather) especially when a prop broke on stage! Lovely to see Denise Welch as Mrs Otter and Gary Wilmot as a curmudgeonly Badger on stage. Neil Mcdermott was a perfectly evil Chief Weasel.
The ensemble pieces – singing and dancing – were fabulous and the costumes were imaginative and fun. Harriet loved it all. She found the whole experience exciting (and a little scary, thanks weasels!) and couldn't stop talking about it the next morning.
Wind in the Willows is a great treat for all the family see below for free child tickets. I loved it and musical theatre is not my first choice.
PWT rating: ♥♥♥♥♥
Performance schedule:
Monday at 7pm
Tuesday – Saturday at 7:30pm
Tuesday & Saturday at 2:30pm
Tickets from: £15 *NO BOOKING FEES*
Kids Go Free: subject to availability, valid Monday to Friday performances until 8 September. Band A, B and D only. 1 Free Kids ticket (16 and under) with every full price adult ticket and up to two additional children (16 and under) at half price. Excludes tickets already purchased.
Book online: www.WillowsMusical.com
Book by phone: 0844 874 0665