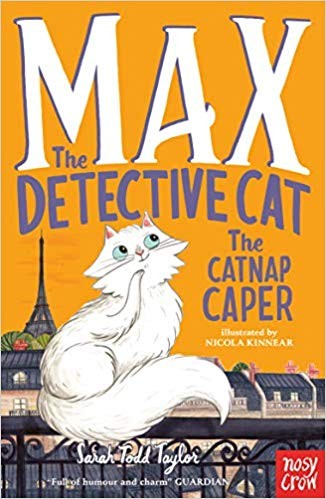 Max The Detective Cat is the fabulous creation of author Sarah Todd Taylor and illustrator Nicola Kinnear. I have just read The Catnap Caper which is due out soon and can be read as a standalone but your young crime fans will love to start at the beginning with The Disappearing Diva.
In his third adventure Maximilian and his friend Oscar are visiting Paris with their "carers" Agnes and Sylvia to catch up with Madame Emerald who was judging one of the most prestigious singing competitions – The Voice of Paris. They are all looking forward to an exciting time but they were in for more than they bargained for when they become involved in a "catnapping" operation that threatens to ruin the singing competition.
Who is responsible for the loss of these precious and pampered pets? Max with Oscar by his side is determined to get to the bottom of it.
The Paris setting, with descriptions of major landmarks as well as café society and the world of music and theatre makes a brilliant backdrop to this story. Sarah Todd Taylor has created some wonderful characters but has also achieved a major feat in enabling Max to solve mysteries as well as "talk in Cat" which we cat lovers should obviously all learn. I was totally captivated by the story and I fell in love with Max and look forward to reading more of his adventures.
PWT rating: ♥♥♥♥♥
Max the Detective Cat: The Disappearing Diva
and
Max the Detective Cat: The Phantom Portrait
are available from Amazon and bookshops.
Max the Detective Cat: The Catnap Caper
is published on 3 October, 2019.