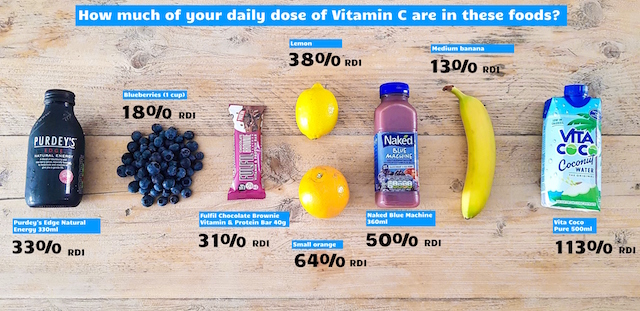 A 500ml carton of Vita Coco coconut water contains more than your daily dose of vitamin C - that's more than typically vitamin-rich foods such as oranges, lemons and blueberries.
According to research by Nutrients, published on Pharmacy Times, Vitamin C is critical for our immune function but people aren't getting enough of it in their diet.
The EFSA (European Food Safety Authority) states that the average daily requirement of vitamin C for adults aged 18+ is 80mg.
What are the other benefits of coconut water?
A great way to rehydrate post-workout
Coconut water is full of naturally-occurring electrolytes including potassium, sodium and magnesium making it the perfect post-workout drink to rehydrate and replenish your body.
Good for the gut
Coconut water contains magnesium which is known to improve digestion by helping the muscles within your digestive system relax.
May help to reduce blood pressure
Similar to bananas, coconut water is rich in potassium which research suggests can be incredibly important in supporting heart health and managing high blood pressure.
Beauty benefits
Coconut water is a great source of hydration that naturally promotes good circulation, helping to give your skin that much-need glow. The varieties containing vitamin C (such as Vita Coco) also help to naturally stimulate collagen production to help your skin stay firm and radiant.
It's the perfect alternative to sugary sports drinks
If you're looking for an afternoon pick-me-up, coconut water is perfect as it usually doesn't contain any added sugars (in the unflavoured varieties) and is 100 per cent natural with no hidden nasties, unlike many other "healthy" sports drinks and smoothies.