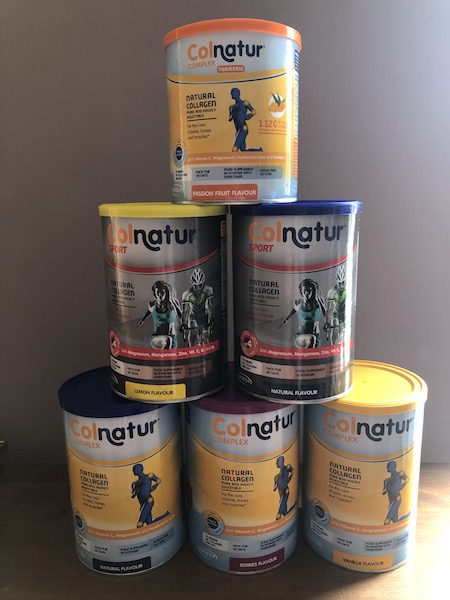 According to hew research from the makers of Colnatur, one in four people has never heard of the fundamental building block collagen yet millions are experiencing symptoms of collagen decline. Few foods contain collagen so taking a supplement is the way forward for joint, bone, muscle health and skin when taken continuously over periods of time.
Colnatur, made with natural ingredients, is a special, natural, hydrolysed collagen in a powder format that you can add to drinks, foods and bake with. It's easily absorbed into the body and is enriched with hyaluronic acid – acts as a lubricant in our joints – as well as all the essential nutrients to help support our muscles, joints and bones.
It's made with natural, high quality, traceable ingredients including a porcine source, which is the closest collagen to that inside our bodies. Plus, the entire Colnatur range is free from fats, sugars, artificial sweeteners, colours, preservatives, allergens, genetically modified ingredients or residues. In addition, the hydrolysed collagen is obtained through a natural process, approved by the European Food Safety Authority (EFSA).
Like all other supplements, it can take up to three months to see the full benefits from taking Colnatur, but when you do, you'll be pleasantly surprised. Colnatur is ideal for anyone who wants to take a collagen supplement and take care of their muscles, joints and bone health. However, it may be of particular benefit to:
● Anyone who wants to take care of their joints and enjoy good bone and muscle health.
● Those hoping to give their skin some extra care.
● Individuals who want to keep active and continue their favourite hobbies such as gardening, baking, the gym, walking, running, cycling, football, racket sports, golf, skiing and even horse riding.
● People over 40, particularly women.
● Menopausal women who want to maintain their collagen levels. And those in later life.
● Sporty people or anyone who exercises or lifts weights regularly.
The Colnatur range comes in a powder format. Just one 10,000mg scoop can be added to smoothies, juice, porridge, yogurts and even soups! It can even be thrown into bakes.
Colnatur® Complex is available in natural, vanilla and berry flavours. It is ideal for those with an active lifestyle for boosting healthy muscles and bones. It is enriched with vitamin C, magnesium and hyaluronic acid to support muscles, joint and bones. It's scientifically formulated with 10g of hydrolysed collagen per day and is great for those who want to keep active and exercise. It's also ideal for skin health across the age groups and can help those who may feel tired at times. 30 days' supply (330g), £26.99.
Colnatur® Complex Turmeric, available in passionfruit flavour, is ideal for joint flexibility and muscle and bone health wellbeing. It's scientifically formulated with 10g hydrolysed collagen as well as 1.12g turmeric per day to aid joint health. It is also enriched with vitamin C, magnesium and hyaluronic acid. 20 days' supply (250g), £28.99.
Colnatur® Sport is available in natural and lemon flavours. It helps support muscle mass, energy, normal functioning, and recovery of the muscles, and also reduces the possibility of cramps thanks to the added magnesium. It is ideal for muscle strength and performance, particularly for sporty people or those wanting to keep active and exercise regularly. As well as 10g hydrolysed collagen protein and magnesium, Colnatur Sport contains amino acids (glycine, glutamine, arginine), manganese, zinc, vitamins B3, B2 and vitamin C. 30 days' supply (330g), £28.99.
To find out more about the range and to order visit www.colnatur.co.uk