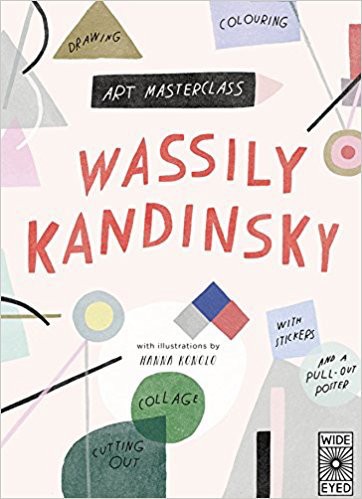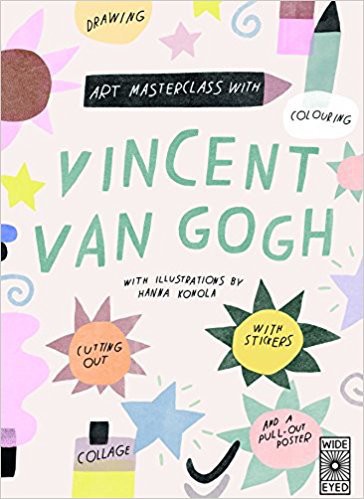 Publishing with the design driven imprint Wide Eyed Editions, this new set of books aims to introduce children to influential artists such as Van Gogh and Wasssily Kandinsky, and teach them how to view and create art in the same way that they did. Illustrated by Finnish artist Hanna Konola, these books will keep the kids busy in the summer time as they work their way through 12 masterclasses to become art masters in the making.
In Harriet's school, the classes are named after artists so they do become aware of the type of art each one creates (she's also in Deller house as Jeremy went to that school). When she saw the Kandinsky book she was a little disappointed as that is the other year three class – hers is Gormley. However she was delighted to recognise van Gogh's Sunflowers.
In Masterclass Wassily Kandinsky children learn how to make art like Wassily Kandinsky, one of the most famous twentieth-century artists. From learning how to draw from your imagination to listening to music for inspiration and using shapes and stickers to make pictures, here are twelve insightful art lessons to help you create your own Kandinsky-inspired masterpiece. With over 20 drawing, sticking and colouring activities, 50 stickers and a pull-out poster, its the perfect art activity book for keeping young children occupied for hours.
After reading a short introduction in Masterclass Van Gogh, young artists engage in drawing, colouring and collaging activities that show how he worked and what inspired him to create the art that people love today. Then, they can use the stickers and all the things they've learnt to create their very own Van Gogh-inspired masterpiece on the pull-out poster at the back.
We're delighted to team up with Wide Eyed Editions to offer readers the chance to win copies of these books. Two winners will each received both books.
To be in with a chance of winning just answer this question:
Who has illustrated the Art Masterclass books?
Please write Art Masterclass in the subject line of your email and include all your contact details. One entry per household.
This competition is now closed.
The winners will be the senders of the first two correct emails opened at random on Monday 9 July, 2018.
Both books are available to buy on Amazon:
Art Masterclass with Wassily Kandinsky
and Art Masterclass with Van Gogh.