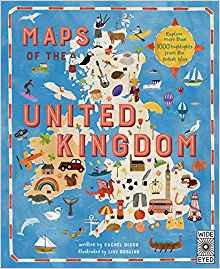 Written and researched by Rachel Dixon and illustrated by Livi Gosling, Maps of the United Kingdom presents a tour of England, Wales, Scotland and Northern Ireland via county maps travelling through time as well as place.
Each of the 48 maps is named in large bold type at the corner of a page and includes the biggest cities, and seven famous people linked to the area as well as interesting facts about the flora and fauna as well as places to visit. The maps of England begin with Northumberland and progress down to the south coasted culminating in Cornwall. Similarly the other countries are portrayed by their regions.
Maps of the United Kingdom is filled with fascinating facts from the quirky to the spectacular to whet your appetite for travelling to them. For instance you can go on safari in central Scotland, take a steam train from Aberystwyth to Devil's Bridge (three bridges built on top of each other), sunbathe with cows in White park Bay (NI) and be overcome by butterflies at Stratford Butterfly Farm in Warwickshire.
This book is a delight to dip into and share. It's recommended for five to nine year olds and adults will be happy sharing. My only (small) criticism is that the type used is (necessarily) small and therefore harder to read for younger children. Otherwise a superb addition for your nonfiction bookshelves.
PWT rating: ♥♥♥♥♥
Maps of the United Kingdom
by Rachel Dixon and illustrated by Livi Gosling is published by Wide Eyed Editions and is available from Amazon where is it currently on offer.