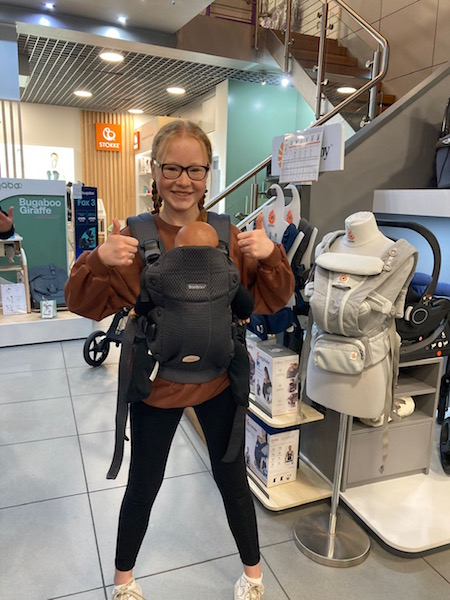 A second pregnancy and baby usually means that parents use the equipment they had for the first child – unless the product hadn't lived up to expectations. However if there is a large age gap the chances are you are starting from scratch. This is the case for my daughter Olivia and husband Chris. Harriet – seen in the photo modelling the BabyBjörn Baby Carrier Harmony with a baby doll – will be 13 by the time her sibling arrives and her mother has the experience and knowledge of previous equipment combined with the excitement of trying what's new and updated in the market.
When thinking about a baby carrier, Olivia and Chris had some criteria they wouldn't compromise on which the BabyBjörn Baby Carrier Harmony fulfilled:
Reputable brand from previous experience
Recommendations from a friend who'd used hers from newborn and beyond
Liked the idea of being hands free for dog walking
Adjustable head rest
Ability to wear front or back
Padded Straps for comfort and the supported waist belt
Easily adjustable straps (Chris 6'2" and Olivia is 5'2")
Robust and durable
Machine washable in case of accidents
Olivia and Chris are looking forward to seeing their new arrival in their BabyBjörn Baby Carrier Harmony – and so am I!
Check out the BabyBjörn online.