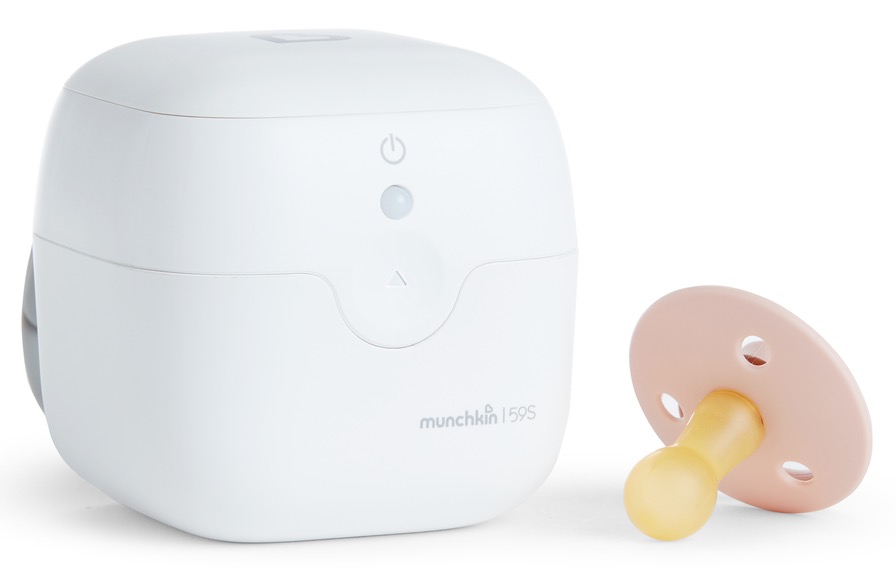 The Munchkin Mini UV Steriliser promises to kill 99 per cent of germs in just 59 seconds and works without the need for chemicals, hot water or a microwave. We actually have a UV steriliser for our main steriliser and have been really impressed with it, so having a mini one to use on the go was just great.
The mini steriliser is designed to be used on dummies and bottle teats, it's not large enough to sterilise a bottle or toy so, for us, it was most useful to help with any accidents with dropped dummies or bottles. If it was just a little bigger it would have been great to use for small teething toys which also have a tendency to find their way to the floor, but that would be the only improvement I could suggest.
It's small and easy to pack in the change bag, or can be hooked onto the pram or a bag with its handy strap. It can be powered with batteries, but can also be charged via a USB port and we found that the charge lasted quite a while which was great for a weekend away. Once the dummy or teat has been washed, it literally takes the press of one button and 59 seconds to have a clean sterile item once more. Whilst this works well for us a travel item to be used on the go, for those that are exclusively breastfeeding, this could be your main steriliser for dummies and would take up much less room and be much quicker than a standard microwave steriliser.
We are off on holiday again soon and this will be top of the pile to be packed in the hand luggage!
PWT rating: ♥♥♥♥♥
Munchkin UV Mini Portable Dummy & Teat Steriliser, Kills 99% of Germs, Viruses and Bacteria in Just 59 Seconds
is available from Amazon.