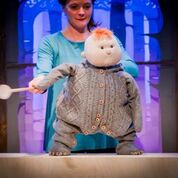 "In a chilly land, far far away, lives a gorgeously grizzly child…"
Harriet and I first visited the Polka Theatre in Wimbledon to see Grandad, Me and Teddy Too. This time Olivia came too to see Beasty Baby, performed in the Adventure Theatre for children aged two to six years old.
The production, devised by Theatre-Rites, uses mime, music, singing, puppets and physical theatre to explore the story of the arrival of a baby and the impact it has on the three characters played by Sian Kidd, John Leader and John Pfumojena.
Beasty Baby begins with the performers setting up a nursery and miming a baby before one actually arrives in the cot. The adults go through the motions of caring for and putting the baby to sleep which will resonate with most parents' experiences. The baby grows and becomes more and more demanding and controlling with lots of hilarious (perhaps bitter-sweet for the parents in the audience) incidents.
Sian Kidd is also the "voice" of the growing baby which she accomplishes superlatively. It is amazing just how much expression is conveyed in a relatively bland puppet face! The interactions between puppet and performers is skilled and totally convincing. The children in the audience were delighted – shrieks of laughter – and completely engrossed.
I loved the way the stage props were used and rearranged – especially how the cot was transfigured and the high chair became a sledge. Beasty Baby is highly original and a perfect introduction to theatre for young children.
Ideal family entertainment for young audiences – Harriet has told everyone: "It's brilliant. It's really funny!"
PWT rating: ♥♥♥♥♥
Beasty Baby which runs until 3 January, 2016 is directed by Sue Buckmaster and devised by Theatre-Rites. Design is by Verity Quinn, music by Jessica Dannheisser (with additional composition by John Pfumojena) and the puppets were designed by Sue Buckmaster and Naomi Oppenheim and made by Naomi Oppenheim.
Tickets £12 (concessions and previews £9) £1.50 transaction charge per booking Box Office 020 8543 4888 or online from Polka Theatre.
The Polka Theatre, 240 The Broadway, London SW19 1SB has wheelchair access, integrated Sign Language performances and Relaxed Performances. There is a café plus indoor and outdoor play areas.