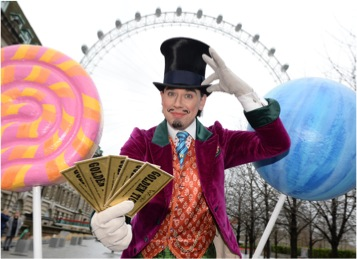 The Coca Cola London Eye gets a taste of the West End this Easter, forming a delicious duo with Charlie and The Chocolate Factory to introduce "The View of Pure Imagination" - a scrumdiddlyumptious interactive Easter experience at the London Eye from 25 March to 9 April.
This Easter and take to the skies on a Charlie and The Chocolate Factory themed adventure to help Willy Wonka invent his latest scrumdidlyumptious treat. A brand new interactive in-capsule experience has been concocted for children and families, featuring a fantastical journey of story-telling actors and mouth-watering moments with sweet making and chocolate tasting. As another tasty morsel, the London Eye landscape will be deliciously decorated to delight as it is given a mouth-watering makeover by the musical, transforming into Wonka's gold and purple world with lip-smacking lollipop trees.
An experience on the London Eye will lift you high enough to see up to 40km and keep you close enough to see the spectacular details of the city unfolding below you. Included in all London Eye experiences is the spectacular 4D cinema show, featuring the first ever-3D aerial footage of London and the famous London NYE fireworks.
For more information and bookings go to London Eye.