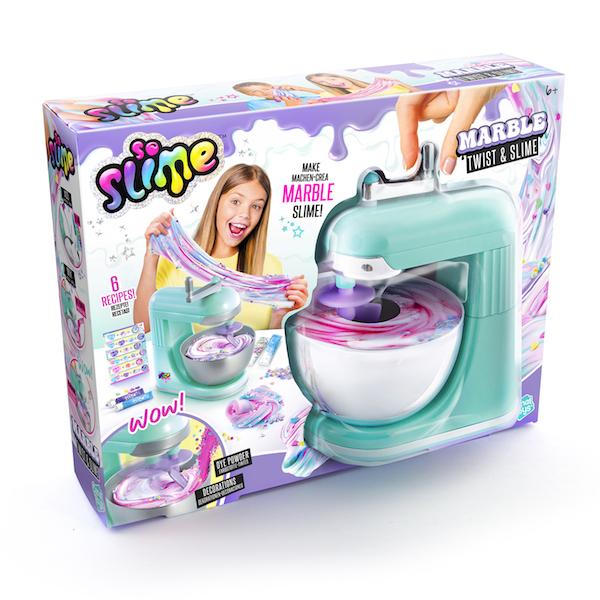 I have never seen such a look of extreme horror when I suggested to my daughter that she might like to try out So Slime Twist 'N Slime Mixer with our granddaughter aged six and grandson aged three. I think the magical word SLIME did it! She need not have worried. Hours of fun and enjoyment followed. Yes there was potential for mess but the contents were so well matched to the activities for both ages that this was successfully kept to a manageable level.
The Slime Mixer is petite and colourful, pleasing to a child's eye and just the right size. The children were able to turn the handle and authentically mix rather than (like some products) everything being static and for show, rather than real play.
The contents, of course, include lots of fluffy white slime and also very bright dye powders to get mixing with. To add excitement (and believe me there was lots of this) there are even more decorations that helped when "squishing, stretching and twisting" – in fact just what it says in the advertising blurb.
The recipe card got the children going but then their own imaginations soon took over and a whale of a time was had. Creativity being the key word. In the end the children needed little supervision as they were so absorbed in the play.
The So Slime Twist 'N Slime Mixer encourages a wide range of social skills: sharing, co-operation, language development and most important FUN!
Every time my grandchildren see me now they can't wait to get going again. The slime mixtures are reusable and re-sealable bags are provided. However we chose to put the slime into reusable tubs with the children's name on- which stopped any arguments later. May be the only constructive criticism would be (believe it or not) we need more SLIME please. I never thought I'd hear myself say that.
It's been an absolute delight to review the So Slime Twist 'N Slime and would highly recommend.
PWT rating: ♥♥♥♥♥
Available from Smyth's Toys and other outlets. RRP £24.99