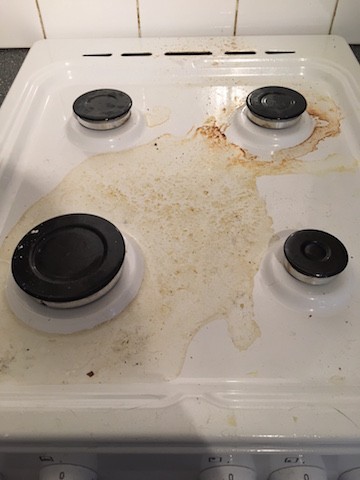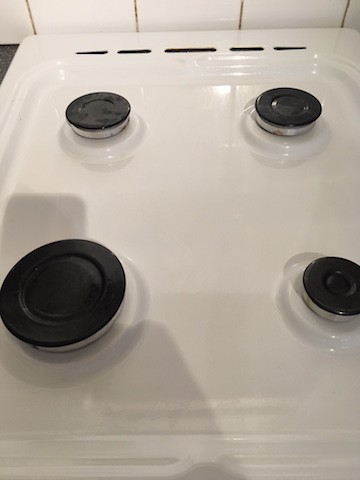 I've been a convert to micro-fibre cloths for cleaning for a long time so was happy to try out this new e-cloth range. A good test, I thought was cleaning the hob. You can see the before photo above where something had spilled over onto the hob (and I left it for a couple of days for good measure).
The second photo is the "after" shot. Only a few minutes cleaning with the Kitchen Cloth which has a special "scrubbing" corner for hard to remove marks which I definitely needed for the hob. It removes thick grease, dirt and bacteria with no products needed, only water and what a result.
The Kitchen Cloth can be machine washed at high temperatures (no fabric conditioner) and tumble dried but it dries very quickly on its own. It comes with a glass & polishing finishing cloth to leave surfaces sparkling. RRP £9.49.
I was equally impressed with e-cloth's Bathroom Pack which includes a bathroom cloth that is extra thick and fluffy for optimal absorbency. It removes greasy grime, soap scum and bacteria, making it a classic for cleaning all areas of the bathroom and eliminating the need for multiple cleaning sprays and solutions (and all their attendant smells). The Glass & Polishing cloth leaves surfaces sparkling and streak free. RRP £9.49
e-cloth even have Glasses Cloth meaning my specs will always be sparkling clean and streak-free. This is a handy cloth, printed with an eye-catching 'Frames' design, which gently removes greasy marks, dirt and bacteria from glasses and lenses. RRP £1.99
Plus my other glasses – the drinking ones – have been treated to the e-towel experience. The e-towels have four times the absorption of a conventional cotton tea towel and leave the washing up sparkling – brilliant on glassware. RRP £4.99
PWT rating: ♥♥♥♥♥
For the rest of the range see here.