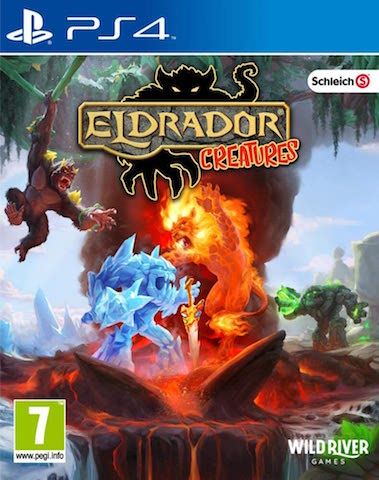 Your chance to join your favourite Eldrador Creatures in a battle for the four worlds and defeat your enemies to gain the mighty Superweapon to rule over Eldrador. This new title from Wild River Games brings to life the mystical world created by Schleich. The game, aimed at children from seven to 12, features well-known figures from Schleich, including new figures like the Rock Beast and Shadow Panther.
• Use the special abilities of your chosen creatures to defeat opponents in tactical combat
• Battle in four game world settings: Lava, Ice, Stone and Jungle
• Dynamic worlds feature toppling elements like walls and bridges
• All dialogue fully spoken in English.
Harriet who will be 11 in April reviews:
I thought that the language used in the game was sometimes hard to understand. The game was moderately difficult to achieve. It was quite disappointing how the game was only for a single player. I would have preferred to play with someone else.
It was a bit irritating how you didn't get to choose the game world setting as it was chosen for you. My first world was Ice and I enjoyed it thoroughly. The only down side to that was when you go into another world, you get other animals but you remain with them through out all of the worlds.
While I have been playing, I have had the Snow Bear, Tiger and Wolf.
PWT rating: ♥♥♥♥
Eldrador Creatures is available on PlayStation 4, Nintendo Switch from Amazon:
Eldrador Creatures (PS4)
Eldrador Creatures (Nintendo Switch)