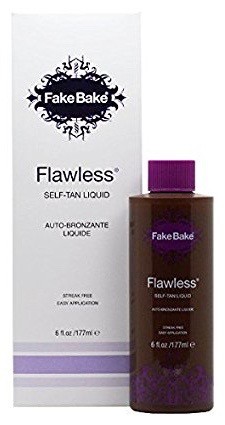 The sun comes out and so do pale winter legs. As I am fanatical about protecting my skin from the sun's rays my go-to solution is throughout the spring and summer months always to use a fake tan. The latest I was offered to try is Fake Bake® described at a "flawless self-tanner".
As with all self-tanning, preparation is key and you should shower and exfoliate before applying Fake Bake®. If you don't have a scrub use cooking salt which is great and leaves your skin tingling fresh afterwards. You can apply before bed (I used this in the morning) but shouldn't shower for four to six hours afterwards. When you do a small amount of colour will rinse off (this only happens after the first shower). Gloves and a mitt are provided for application and what I particularly like is the fact that you have an immediate colour which looks like a natural tan – with no streaks. If you want a darker colour you can apply several days consecutively but I found once was enough. Then you can exfoliate and reapply a week later.
The product is easy to apply and the instructions are clear. Definitely gets my vote.
Remember that a fake tan does not protect the skin from UV rays and you will still need to use sun protection.
PWT rating: ♥♥♥♥♥
Fake Bake Flawless Self Tan Liquid 170ml with Mitt
is available from Amazon.