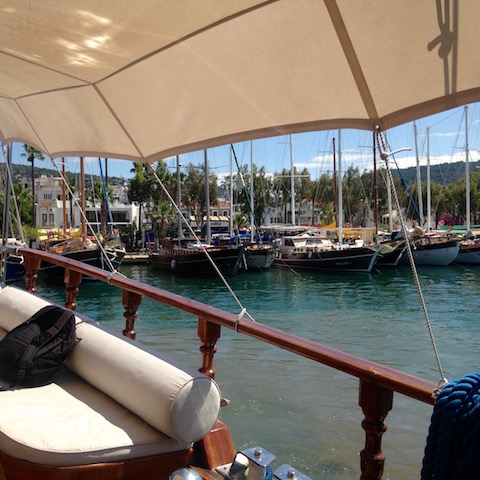 Our press trip to Bodrum had a packed itinerary, so the prospect of a day spent cruising on the sea and relaxing was very welcome. It did not disappoint.
We joined the Afrodite in the marina and once aboard we were treated royally. The yacht was a superior class and also offered cabin accommodation for longer trips. These cabins – the ones we saw when using the bathrooms – were fabulous and I would certainly consider a cruise as a possibility for a holiday.
The staff on board this Barbabos Yachting cruiser were charming and friendly, the facilities excellent and the weather perfect. Coffees and teas were ready for us on boarding after a briefing from the captain about our trip and safety. Then we set off and it was time to lounge on the deck, absorb the scenery or take some shade (high factor sun protection essential), or a drink in the bar.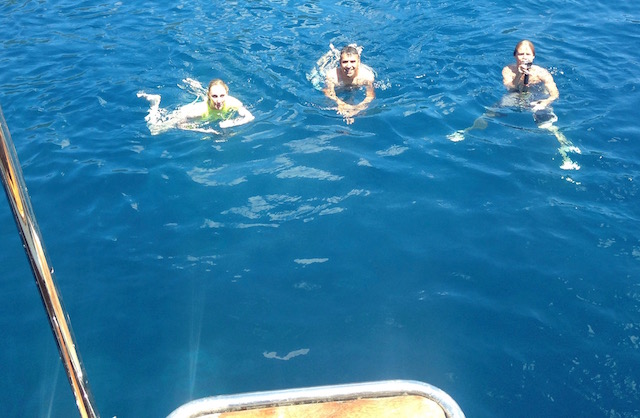 Lunch was simply delicious and plentiful – I was stunned the people still had room for ice creams that arrived via a seller in a small motorboat. This seemed to be one of the highlights but families should beware that they are quite expensive.
There was also time for swimming and snorkling (if you brought your own gear). Some dived off the side of the boat but there were steps down to the water for the less adventurous.
This is a lazy day to enjoy Turkish sunshine, scenery and sumptuous food. At one time , as I noticed from my smart phone notifications, we sailed into neighbouring Greek territory. The two countries share much including lovely hot sunshine.
This was a fabulous day trip which I would totally recommend.
PWT rating: ♥♥♥♥♥
There are many boat trips on offer to suit various budgets which you can see and compare while strolling along the sea front of the marina.