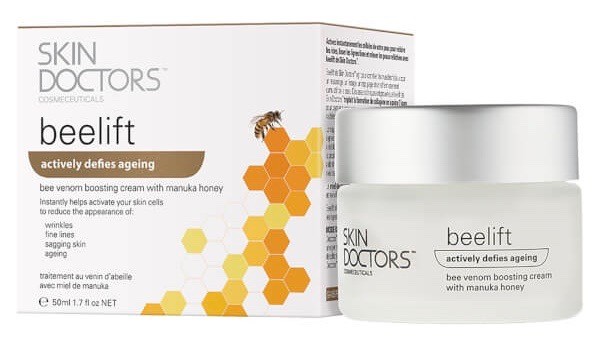 Skin Doctors™ Beelift™
In just seven days, Beelift™ is "clinically proven to triple the formation of collagen ... leaving your skin looking brighter, firmer and visibly younger". It is difficult to judge this on yourself but I didn't notice a marked improvement in my skin. However I shall carry on using for the accumulative effect it may have.
The product feels good to use and should be applied to the face and décolletage, avoiding the eye area, to cleansed skin morning and at night. Follow this with a moisturiser.
If you are allergic to bee stings you should not use Beelift™ as it Bee Venom (bees are not hurt in the extraction process).
Skin Doctors Beelift, Award Winning Anti-Ageing Skincare Treatment Cream with Bee Venom, Manuka Honey & Royal Jelly. Reduces Signs Of Ageing, Collagen Boosting and Paraben Free. 50ml
is available from Amazon.
PWT rating: ♥♥♥♥♥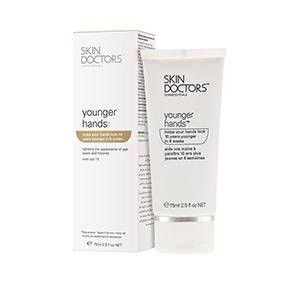 Skin Doctors™ Younger Hands™
This is a useful cream for your hands which often get forgotten when we're thinking about sun protection. The cream is quickly absorbed and your skin feels great after use.
I'm not sure how you measure skin looking ten years younger after six week's use but in my experience people who regularly moisturise their hands throughout the day have younger looking skin. Protecting hands from the sun's harmful rays also slows down the ageing process.
Skin Doctors™ say that the cream "lightens the appearance of age spots and freckles" and again this is difficult to quantify but freckles fade when not exposed to the sun so a hand cream with an SPF of 15 will certainly help.
PWT rating: ♥♥♥♥♥
Skin Doctors Younger hands, helps lighten the appearance of age, spot and freckles with SPF 15 – 75ml
available from Amazon, currently reduced to one quarter of the RRP.