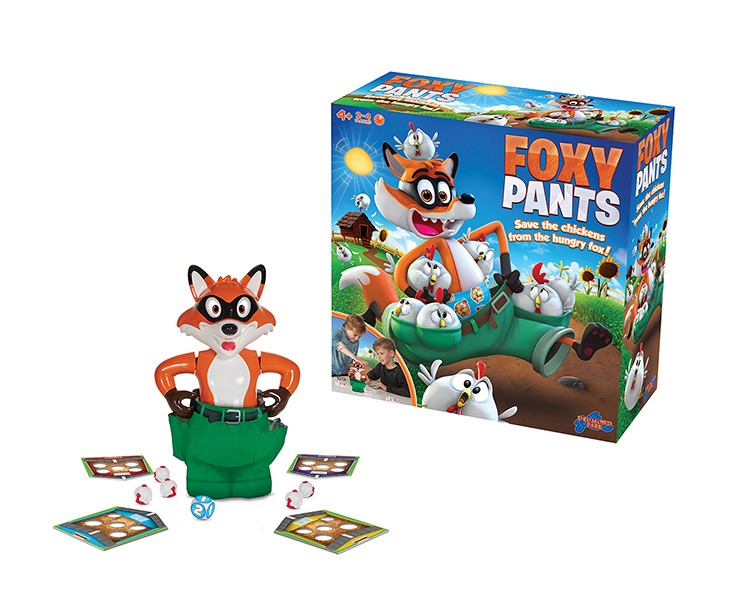 Our friends over at Drumond Park have come up with an absolute winner for the younger members of the family this autumn … the unique and irrepressible Foxy Pants (rrp £22.99, for ages four plus). Bursting with excitement and anticipation, this brand new table-top game is set to be hugely popular with its unbeatable combination of super-fast fun and a twist of dexterity.
The player who gives the best chicken impression goes first and play continues clockwise. At the roll of the die, each player puts as many chickens in Foxy's pockets as is indicated by the number rolled (1 or 2). At the end of each turn, the player must press Foxy's head once (until you hear a clicking sound) and if nothing happens, play passes to the next child.
Players will need to watch out for the dastardly Fox who sneaks around the chicken coop, filling his pockets with sleeping chickens. But once Foxy's pants get too full, watch as they suddenly disappear before your very eyes, as if by magic! Blink and they're gone. As the chickens have been sent flying across the table, it's time to see who can react the fastest, nimbly gathering up the most chickens (using one hand only) – racing to be the first to fill their chicken coop.
To be in with a chance of winning this hilarious game, just answer this simple question:
Who starts the game?
Please write Foxy Pants in the subject line of your email and include all your contact details.
This competition is now closed.
The winners will be the senders of the first five emails opened at random after 12pm on Monday 29 October, 2018.
For more information and stockists visit Drumond Park. And to catch up on all the news on their crazy blog.