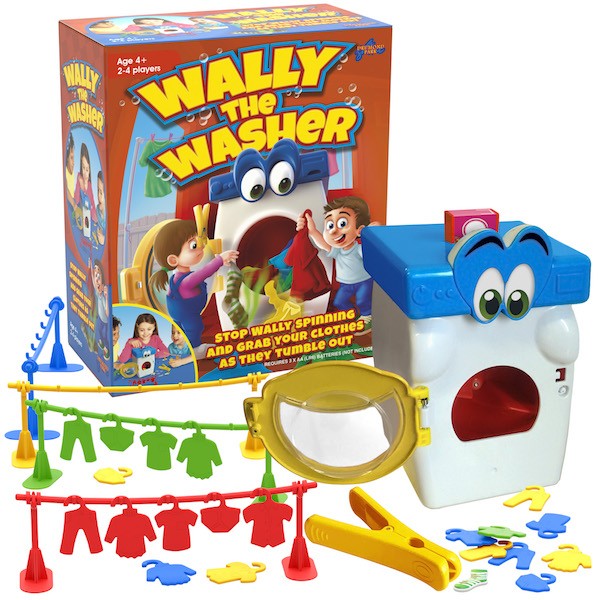 Those clever creative minds over at Drumond Park have come up with another winning action game in Wally The Washer (rrp £24.99, age 4+). Wally is a delightfully whacky toy washing machine who takes centre stage in this fabulous game. He's guaranteed to keep small girls and boys happily entertained for hours – and we've got five to to be won.
Young children just love watching the clothes spinning round in their washing machine at home – and now they can have their very own toy version! Wally spins just like the real thing, then spills out his washing – as young players race to collect their coloured clothes, and be the first to fill their washing line.
But watch out for the dirty old sock! If it tumbles out with the washing on your turn, you must put back all the clothes. And if you really want to get in the spirit of things – you can opt to wear the giant clothes peg on your nose until the next time the dirty sock appears.
This irresistible game is easy to set up and play. You simply load all the clothes and the dirty sock into the drum, and close the door. Each player decides what colour of clothes they are going to collect and takes a washing line and a pair of poles in the corresponding colour. Then Wally is placed within easy reach of everyone, his switch is turned on and his drum starts spinning away. Play can begin!
Each child in turn has a go at stopping Wally whirling by pressing down on the soap packet – and as the contents of his drum tumble out, it's time to find out whether everyone simply gathers up their own coloured clothes and quickly hangs them up on their washing line, whether the dirty sock appears alongside the clothes in which case everything goes straight back in, or if nothing at all falls out of Wally, at which point, play passes to the next child. The lucky winner is, of course, the first player to fill their washing line.
The engagingly characterful Wally the Washer will draw the little ones back again and again for loads of active fun and laughter, while also helping them to learn simple colours and basic counting. Parents and carers will also be delighted to discover that most small children will also be able to play with Wally as a toy, on their own. And we all know that's always a bonus.
To be in with a chance of winning a copy of this delightful game, just answer this simple question:
How many can play Wally the Washer?
Please write Wally the Washer in the subject line of your email and include all your contact details.
This competition is now closed.
Winners will be the senders of the first five correct emails opened at random after 12pm on Monday 1 October, 2018. Only one entry per household.
Catch up on all the Drumond Park news on their blog.