GOPO® Joint Health Plus Ginger is described as a food supplement derived from rose hips with added ginger and vitamin C. GOPO is the active ingredient derived from the rose hips, and together with the other ingredients, may play a part in joint health, and flexibility.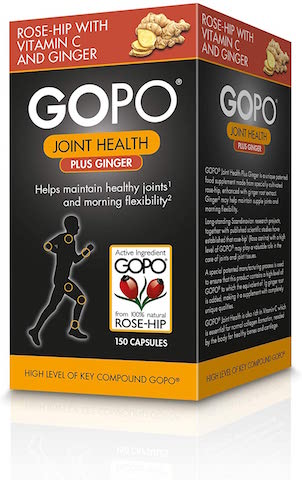 I have mixed arthritis in mainly my knees hands and feet, and experience pain, lack of flexibility and morning stiffness
The supplement comes as a clear capsule filled with a ginger coloured powder which smell pleasantly of ginger. They may be swallowed, or the capsules split and sprinkled over food. Some may prefer this to swallowing the capsules which are on the large side. However I swallowed them with no problem.
The initial dose is three capsules twice a day for three to five weeks followed by a maintenance dose of two capsules twice a day. Unfortunately I experienced headaches, not something I usually suffer from, a couple of days after starting the capsules. These disappeared on stopping the capsules. I decided to continue just taking the maintenance dose, and have not experienced headaches on two capsules twice a day.
I have now been taking the supplement for almost a month. I feel I have noticed a welcome difference in the pain and morning stiffness in my knees, but not currently so in my hands or feet. I am hopeful that further improvement may follow.
I have not taken any other painkillers or anti inflammatory medication during this period. I like the fact that there are only four ingredients, gelatine for the capsule, and rose hip, ginger and vitamin C. The capsule size may be an issue for some, and it may be necessary to adjust the dose to suit the individual, as I did.
I plan to keep on taking them at the moment, and would recommend the supplement to those who have joint problems or wish to support their joint health.
PWT rating: ♥♥♥♥
GOPO Joint Health Plus Ginger Capsules, Rose Hip with Vitamin C and Ginger, Pack of 150 is available to purchase from Amazon, pharmacies nationwide and from GOPO.