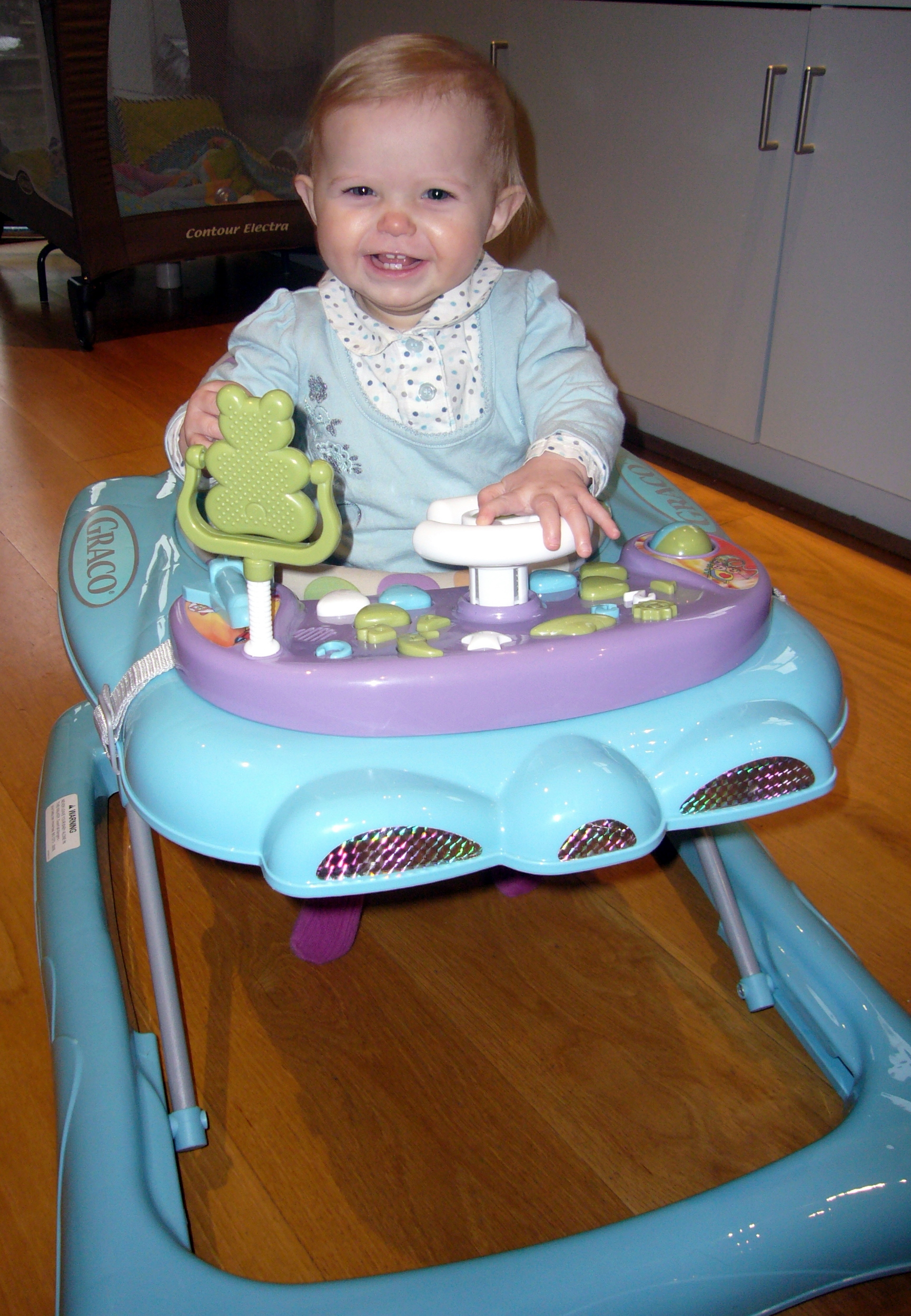 The photograph of Pippa says it all - she is utterly delighted by her Graco Discovery Baby Walker. For the last fortnight Pippa has been testing this baby walker. At ten months old she is crawling fast but can not walk or stand unaided. The baby walker has provided a fantastic new and safe supervised play area, complete with removable play tray with toys and music and some movement.

The Graco Discovery Baby Walker we have been testing has four different height positions, the lowest at 22cm just allows Pippa's feet to touch the floor (she is on the small side for her age). She can move the walker a little by herself but mainly enjoys the play tray and watching life from this new and interesting perspective. The baby walker provides about ten to 15 minutes of happy, stimulating play for Pippa which means a great deal. I am using it in the kitchen so that she has a new play area whilst I prepare meals and generally clear up the debris of scattered toys following "free" crawling play times.

The seat on the Graco Discovery can be fixed or rotated so that baby can see around the room. I have kept it on the rotating setting so that Pippa can manoeuvre herself around. The baby walker arrived flat packed in a box but was very easy to set up using the simple instruction leaflet. In addition the seat cover and play tray are both removable for easy cleaning and the whole thing can be folded really flat for returning the house to an "adult environment" come the evening.

Safety is important to all parents and particularly when it comes to the use of baby walkers. The safety features on the Graco Discovery include single direction rear wheels which control the movement of the walker and anti slip grips which prevent the walker sliding down inclines.
I have no hesitation in recommending this walker - it is practical, durable, has great safety features, comes in a range of different colour ways (including the particularly nice blue one illustrated) and most importantly provides a stimulating and enjoyable new view of the world for a pre-toddling baby.

The Graco Discovery Baby Walker (£49.99) is advertised for use from around six months old and has a maximum weight of 11kg/25lbs.
For stockists telephone 0844 412 1212 or visit www.graco.co.uk