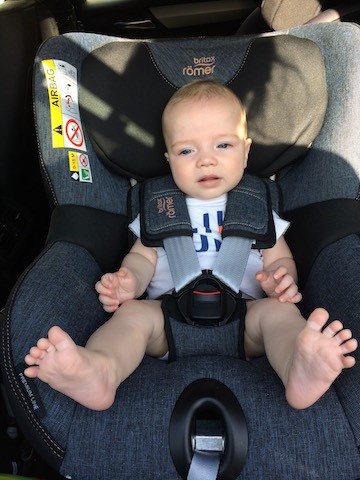 Packing up the car with two small children in tow is never an easy task. As a busy mum of two I'm also often doing this on my own. So while I'm making sure my toddler is safe on the pavement, I'm often wrestling my four month's old car seat in to the car. Add to that a double buggy, a million snacks, suncream, toys ... it's often quite chaotic!
With children needing to be rear facing until 15 months and under 76 cm, it can be quite difficult to strap a growing child in to a car seat at a tricky angle, particularly if they are throwing a tantrum! And here is where the Britax DUALFIX M i-SIZE really comes in to its own.
What I absolutely love the most about this seat is the rotation function. No more will I have to be lifting heavy weight children at difficult angles. It's so easy to work, and it also doesn't matter which side of the car you have it on. Other key features are that it's very easy to tilt it back for younger ages, adjust the height of the backrest – meaning I can interchange easily between my children – the belt release button doesn't jam (like so many other brand car seats do!) and it has nice thick padded bits on the belt straps for extra comfort. Overall it feels very robust and safe.
It arrived in a very large box, which incidentally made a great den for my two year old. It was pretty simple to fit the isofix in to our car, taking about 20 mins in total from unboxing to completion. The main thing slowing this down was the weight and manoeuvring it in to the car as it's a bit more bulky than other seats. However, now that we know how to do it I'm sure it will be a lot quicker to install. But hopefully we don't have to move it anytime soon! The width is slightly more than other competitor seats on the market. With two child seats in the car this means it's almost impossible to sit in between them for a long journey – but we never use this seat anyway so it's not a problem for us.
This seat will take us up to 105 cm height, so hopefully around four years old. The ease of switching between rear and forward facing makes it an excellent investment for parents seeking a car seat that grows with your child and also saves your back when trying to get them in.
PWT rating: ♥♥♥♥♥
For more information on the Britax DUALFIX M i-SIZE and stockists visit the Britax website.