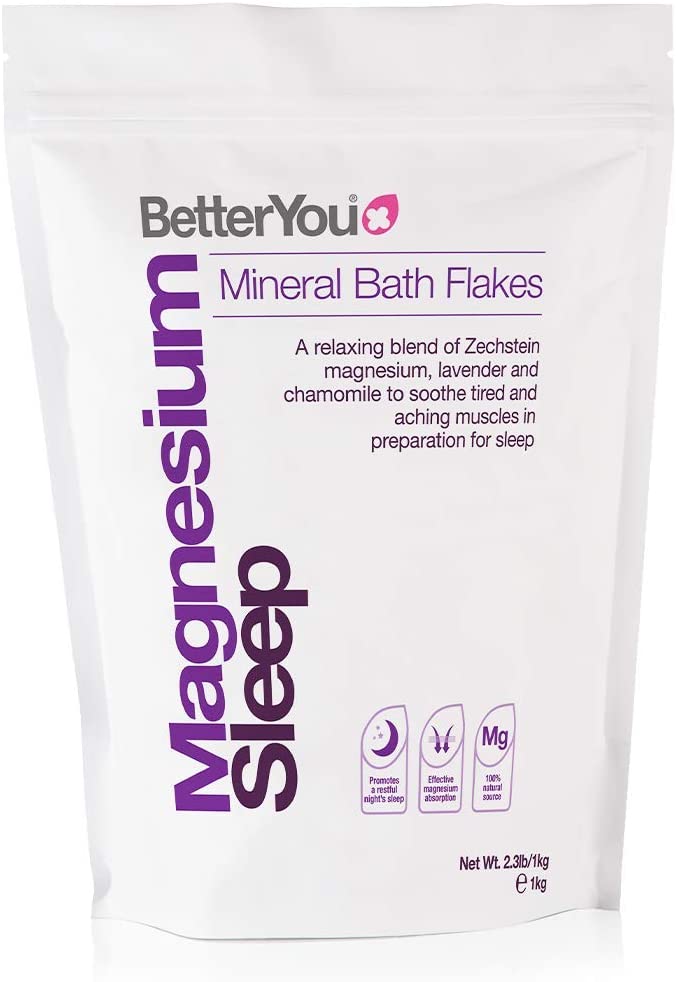 I love bath unguents and have regular long soaks in bath foam, bubbles, oils or bombs from my well-stocked bathroom collection. But I've never before been tempted to use bath salts. Maybe because my image of them is as slightly old-fashioned. Pungent salts in purple and pink hues nestled in a twee bottle.
So, I was pleasantly surprised when I received Magnesium Sleep Bath Flakes and Magnesium Muscle Bath flakes.
The bath flakes, made by the natural health brand BetterYou, come in clean, modern, resealable bags with enough flakes in each bag for 4 baths.
I tried the Sleep Bath Flakes before bed. The packaging says the flakes are infused with "essential oils of lavender and chamomile help slow sensory activity and quieten the mind in preparation for sleep".
On opening the packet, a gorgeous lavender aroma filled the bathroom. I added 250g of the flakes (about two mugs full), as instructed, to the hot bath while it was running.
The flakes dissolved immediately in the bath water – but the heady aroma remained and certainly made me feel drowsy as I lay back and relaxed for the recommended 20 minutes. The lovely smell still lingered in the bathroom the next morning.
The Muscle Bath Flakes were, if anything, even stronger. Described as "infused with Sicilian lemon oil and Tunisian rosemary oil to maximise muscle recovery after exercise", the citric scent was gloriously intoxifying. I've no doubt that if my muscles had been aching, they would have been soothed.
It's worth noting that the bath water remains transparent after the flakes have dissolved – so if you like your bath water to be coloured, milky or with bubbles, these bath flakes probably would not be right for you.
Also, the bags containing the flakes are quite large – so would need to be stored in a bathroom cabinet rather than on the rim of the bath.
My 18-year-old daughter, Phoebe, tried both types of bath flake too – and loved them.
I'd buy these bath flakes for myself to treat myself to a therapeutic soak as needed.
But the flakes would also make a thoughtful gift for men and women (they're not at all "girlie" like lots of other bath products) of all ages.
PWT rating: ♥♥♥♥
Magnesium Sleep Bath Flakes/Magnesium Muscle Bath Flakes (1kg, RRP £9.95) are available from Holland and Barrett and online at betteryou.com, amazon.co.uk and ocado.com.
BetterYou Magnesium Sleep Flakes, 1 Count