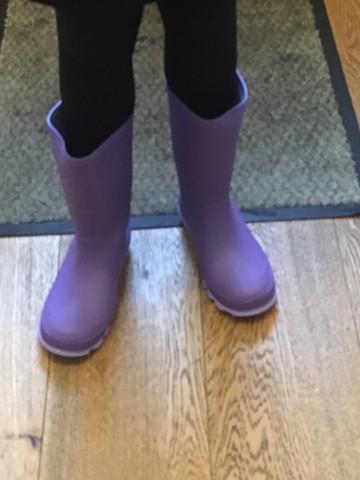 From splish-sploshing in puddles at the weekend, to a showery walk to school mid-week, wellies are perfect for keeping the kids' feet snug and dry.
Mountain Warehouse has launched several more styles for 2019 and Harriet was over the moon to see that her pair came in her favourite colour.
The comfy wide fitting means she can wear an extra sock when the weather is cold.
These Plain Wellies are perfect for some puddle fun. With a PVC outer, durable sole and soft jersey lining, they're perfect for having fun outdoors, rain or shine. plus the deep lugs give traction on the sole for grip and stability.
They are easy to clean – mud and dirt will easily wash off and a quick wipe wipe with a cloth will keep them clean and fresh.
Harriet finds them comfortable to wear and loves the freedom to play in them.
Plain colour wellies – £19.99 (sizes 8-4)
Flashing wellies – £19.99 (sizes 6 - 11)
Glitter wellies – £25.99 (sizes 12 - 5)
PWT rating: ♥♥♥♥♥
Visit Mountain Warehouse to buy – free delivery when you spend over £50 plus there's a click and collect option.