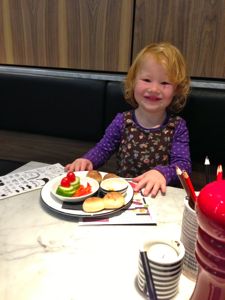 What is good about the Pizza Express chain of Italian restaurants is good quality food on a reliable menu.
We visited the Pizza Express in Langan Place, just a few minutes walk from Oxford Street on a Saturday afternoon, post lunch and before the evening rush. The service was a little slow and we had to ask for a children's menu. However when it did come – with colouring pencils and stickers – Harriet enjoyed the activities so much we had to ask for another to see what food was actually on offer for her.
The Piccolo menu is £6.50 for three courses and a Bambinoccino. (An alternative for younger diners, if they are not sharing yours, is to have just the Piccolo main for £3.95.) Harriet chose the dough balls, and the pasta burro dish. Olivia and I ordered doughballs and olives which Harriet shared. We both went of the Leggera option – Padana and American Hot – as I never seem to finish a pizza and love the salad in the centre plus they are only 500 calories.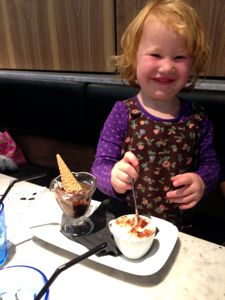 Unfortunately when our pizzas arrived they were lukewarm but were replaced and they were delicious with the crispy Romana base.
Our bill including a botle of house wine came to £51.40.
Pizza Express restaurants offer gluten meat and dairy free options.
Worth considering: Kids Pizza Making Parties at £11.95 per person
PWT rating: ♥♥♥♥♥
Anne Coates was given a voucher for a press visit. However Pizza Express did not know beforehand which restaurant would be reviewed.