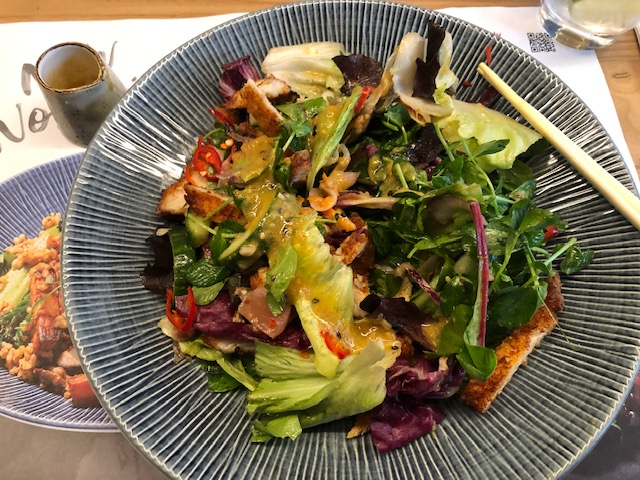 wagamama is Harriet's favourite restaurant so we managed to fit in two trips there during the school holidays which coincided with the launch of its new summer menu featuring a tasty salad based on it's iconic chicken katsu curry dish.
The all-time favourite curry has been given a summer makeover to produce a lighter, lower calorie meal. Coming in at 578 kcal the chicken katsu salad features chicken in crispy panko breadcrumbs, edamame beans, pickled asian slaw, pea shoots, japanese pickles, red chillies and a side of curried salad dressing. There is also a tempeh (soybeans) version of the katsu salad.
This was so good I had the chicken katsu curry dish on both visits. It's suprisingly filling and tastes delicious. Absolutely loved it.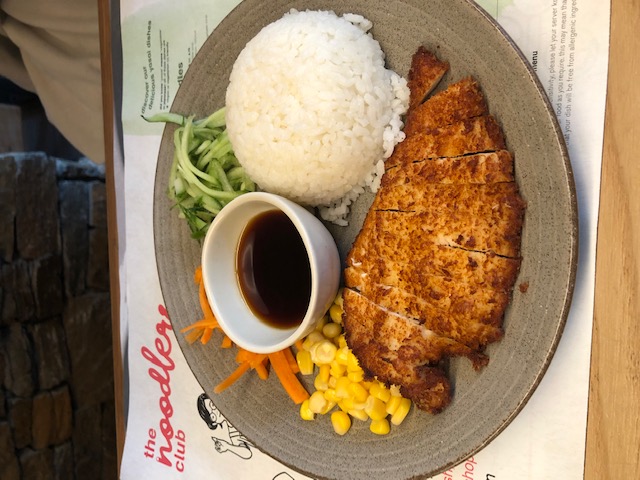 On our first visit Harriet chose from the children's menu and managed to graduate to using proper chopsticks not the trainer ones. The one disappointment was the tropical juice which didn't really taste of anything fruity.
What I enjoy about wagamama is it's perfect for people who are vegan or like me have a dairy intolerance. wagamama's extensive vegan options are now on the same menu.
With the mandatory introduction of calories on menus wagamama realises that calories aren't helpful for everyone and so will offer a calorie-free version of their menu available on request, appreciating that everyone's relationship with food differs.
wagamama's new menu campaign, called "True Nourishment", is grounded in the brand's long-withstanding food philosophy – leading a truly healthy life is not just about consuming quality ingredients, but also maintaining quality thoughts and mental wellness.
The menu introduces an innovating range of gut-healthy ingredients, which are peppered across the restaurant's new dishes which are well worth exploring.
wagamama is popular with families and you don't book so be prepared to queue at busy times when the service an also be quite slow.
PWT rating: ♥♥♥♥
Find your nearest wagamama here. Takeaway and delivery services are available.
Thank you to wagamama who supplied us with a voucher for our review. We went to 101a Wigmore Street, London W1U 1QR where the staff did not know we were reviewing.