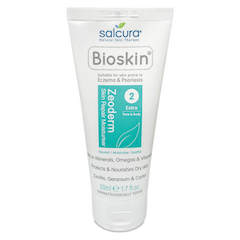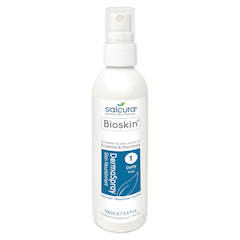 Having lived with very dry and sensitive skin since my teens, it's not surprising that having settled on a moisturising regime that doesn't leave me looking like a red lobster I would be reluctant to venture into new territory. However using Salcura Bioskin Dermaspray Intensive (body) and the Zeoderm skin repair moisturiser (face & body) has been a revelation. The Dermasapray Intensive (body) claims that it "quickly breaks the itch-scratch cycle'"and unlike many other products, from my experience, this is in fact true!
Particularly during the spring and summer seasons, my shins become very dry and itchy leading to the inevitable urge to scratch. Relief usually comes only when lavish amounts of moisturising cream are frequently applied. After initially using the Dermaspray as directed, three to four times a day, I now find a generous application in the morning and a top up in the evening is sufficient to keep the dryness and flakiness (and hence itching) away…all day and night…hoorah! Being in spray form too makes application very straightforward. The combination of different herbs (like lavender, rosemary and peppermint) and vitamins (Omegas 6,7 & 9 and vitamin E) gives the spray an invigorating and light fragrance.
Combined with the Zeoderm skin repair moisturiser I think I am becoming a Salcura Bioskin enthusiast. At first the moisturiser felt heavier than my usual one – however once applied it absorbed really easily into my skin, leaving it feeling refreshed and calm. The dry patches of skin around my chin and cheeks quickly disappeared after only a few days of use and even more importantly no redness or irritation. I also loved the combination of flowers used – rose, lavender and geranium – always amongst my favourites.
One good indicator of whether a product has "done what it says on the tin" is if I am still using it after several weeks and the answer is "yes I am".

I recommended the junior range to my daughter whose younger son suffers from eczema. In particular the constant washing of his hands and application of anti-bac gels during the pandemic had been taking their toll. Now having started to use the Bioskin Junior Outbreak Rescue Cream she too is delighted with the outcome. Using this cream has greatly reduced his distress throughout the day. The junior range is quite extensive and also includes a bath milk and a shampoo.
Highly recommended.
PWT rating: ♥♥♥♥♥
For more information on the range and stockists visit Salcura Skincare.