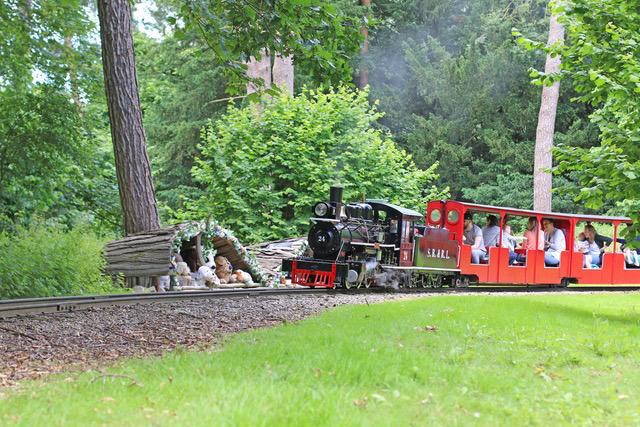 Returning to Audley End Miniature Railway the Summer Festival is jam-packed with activities and entertainment for all the family. This spectacular summer-long festival offers everything to ensure a day full of excitement and wonder for children and adults alike.
In addition to the enchanting train ride through the Audley End Estate on our beautiful miniature steam railway, the summer months see the resident fairy and elves welcoming visitors to their charming woodland homes. Wander in awe through the magical groves and look out for the delightful fairy and elf homes hiding amongst the trees with our I Spy booklet.
Back at the picnic area, the fields will be adorned with beautifully decorated bell tents offering an array of activities led by our resident magical characters. Children can get into character with colourful face painting, or roll up their sleeves and unleash their creativity in our crafting tent.
New faces this summer include a beautiful shimmering unicorn and mythical dragon who will delight and enthral young minds with spellbinding tales of their adventures from our storytellers – and will you spot them in their new woodland home?
And if all that still leaves you wanting, there are plenty of fun activities to get involved with in our Games area.
We have a special reader offer for the opening weekend – half price tickets for the opening weekend 20 to 21 July to celebrate the end of the school year and the start of the summer holidays.
Tickets must be booked online before 13 July using the code SUMMER50.
The Summer Festival runs everyday from the 20 July to 8 September 2019.
Ticket Price: £11 per person, under twos go free
Summer Pass can be used for three months, giving unlimited access onto site from the 1 June to the 31 August 2019.
Prices
Adult – £20.00
Child (2-16 years) – £20.00
0-24 Months – Free; Carer – Free
Audley End Miniature Railway
, Audley End Road, 
Audley End, Saffron Walden,
 Essex CB11 4JB