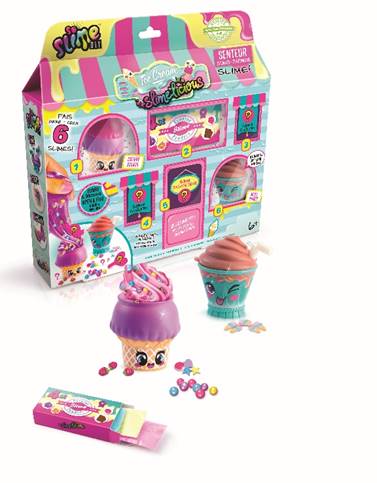 Even more slime experiences are at hand. Create your own fabulous scented slime, personalise with your own decorations and then store it in the adorable mini shakers and display in the mini shop. There are three fabulous shops available to create your very own high street including soda, ice cream and sweet shops!
This new mini range is a further extension to the hit So Slimelicious DIY range:
So Slime DIY - Slimelicious Soda Shop – SRP £7.99
So Slime DIY - Slimelicious Sweet Shop – SRP £7.99
So Slime DIY - Slimelicious Ice Cream Shop – SRP £9.99
So Slime DIY – Slimelicious Mini Blind Pack – SRP £2.79
Each shop contains:
2 x mini shakers

6 x scented slimes

3 x decoration bags

2 x charms
Harriet, aged ten, and a Slime fan gives her verdict:
"The slime shop was exciting to make. However it told you where to fill up to with water but it should of been lower because when l left it to set it was very watery. l added the surprise but that just made it more liquidity. Out of 5 l would give it a 3 because it was fun, nice smelling and a nice experience. It came in colour choices of purple, blue, yellow, brown, dark pink and light pink with a smell that went with it. There were two surprises in a packet and l got a chocolate bar and a lollipop. I liked making it but it wasn't amazing but wasn't terrible so it was right slap bam in the middle."