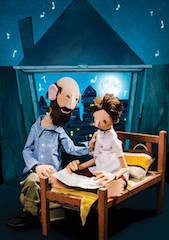 MONSTRO Theatre will be touring the UK with Book Story – a play celebrating books, reading and libraries.
This is the tale of some books, in a library. But these are no ordinary books and this is no ordinary library. It's Brian's library: a wonderful, magical place where the books like to flutter their pages and let their shelves go…
Funny, surreal and completely unpredictable, Book Story uses puppetry to engage children with the challenges of the digital age and explore our deep fondness for the simpler age of the page.
Tour dates:
27 September – Sunday 1 October Little Angel Studios, N1 2EH
06 October Goodrich Village Hall, Goodrich HR9 6HX
07 October Spring Arts & Heritage Centre, Havant PO9 1BS
08 October The Capitol Theatre, Horsham RH12 1RG
09 October Hook Library, Hook Rd, Chessington KT9 1EJ
11 October Central Library, London IG1 1EA
13 October Trestle Arts Base, St Albans AL4 0JQ
14 October Old Town Hall & Arts Centre, Hemel Hempstead HP1 3AE
16 October Tooting Library, London SW17 9PD
18 – 21 October TakeOff Festival, The City Theatre, Durham DH1
22 October Gulbenkian, Canterbury CT2 7NB
23 October The Woodville, Gravesham DA11 0PA
24 October Theatre Royal, Bury St Edmunds IP33 1QR
26 October Norden Farm Arts Centre, Maidenhead SL6 4PF
27 October Arts Centre, Bridport DT6 3NR
29 October artsdepot, North Finchley London N12 0GA
04 November Astor Community Theatre, Deal CT14 6AB
MONSTRO Theatre MONSTRO is led by composer and theatre-maker Ben Glasstone, winner of the 2017 MTI Stiles and Drewe Award. Ben has composed and directed many successful musical shows for Little Angel, Polka, Unicorn, RSC and others, including The Mouse Queen which toured off-West End and off-Broadway in New York. Following the success of Mouse Queen and other shows, Ben set up MONSTRO with several of his closest collaborators to make work aimed at engaging adults and children in tandem.