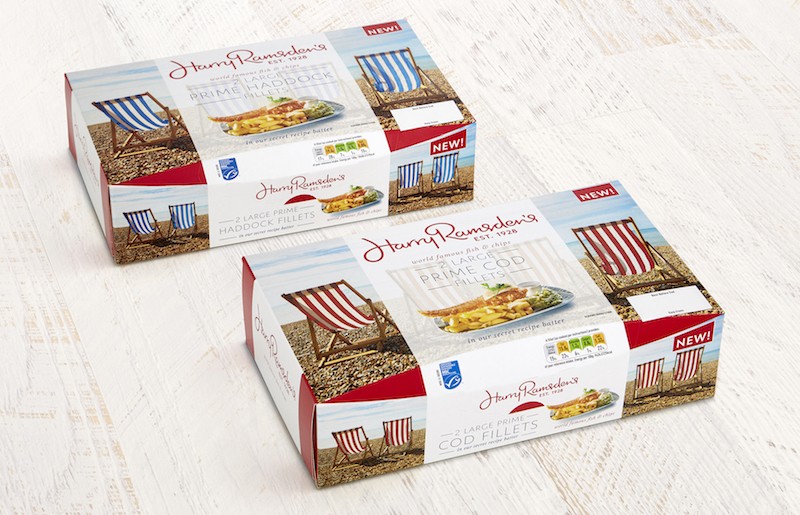 World famous for fish and chips, Harry Ramsden has been serving the traditional favourite for almost 90 years. Proud of its heritage, Harry Ramsden still closely guards the secret recipe of Harry's famous batter which is freshly mixed every day to ensure the consistency is just right to complement the delicious fish.
It's this dedication to continuing the traditions of its founder that helps Harry Ramsden to keep serving up the tastiest fish and chips in the world.
Now with two products available – Large Prime Cod Fillets and Large Prime Haddock Fillets – an authentic, quality seaside supper is no longer restricted to sunny days at the beach and can be achieved in the comfort of your own home across the UK via the freezer isle. Flapping gulls and bracing breeze not included!
Large Prime Cod Fillets
Olivia and her partner tried these and were suitably impressed – perfect to keep in the freezer as a treat when you get home from work.
Harry Ramsden 2 Large Prime Cod Fillets – RSP £4.50
PWT rating: ♥♥♥♥♥
Large Prime Haddock Fillets
I found these quite disappointing. The fish in batter seemed rather dry although I followed the cooking instructions to the letter and served with fresh lemon juice.
Harry Ramsden 2 Large Prime Cod Fillets – RSP £4.50
PWT rating: ♥♥♥♥♥