With so many anti-stretch mark products out there, I was very glad to have been pointed in the direction of Mama Mio for my first pregnancy.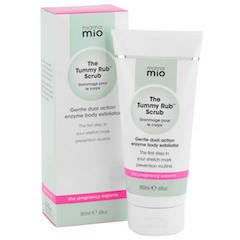 The Tummy Rub Scrub particles seem too fine at first but once the itching really begins to set in (which for me was around 15 weeks) you will understand why the grains are so fine! The scent is very delicate, and the scrub washes off easily and leaves your skin feeling great.

My favourite product was the Tummy Rub Oil which was mildly fragrant, but certainly not overpoweringly so, and did not make my hands feel oily after use.
Easy to apply and with plenty in the 120ml bottle, the oil has been wonderful in keeping my tummy and whole torso skin feel bouncy and soft.

The Tummy Rub Butter was a nice addition, but I did not feel like I needed the butter to layer over the oil which did the job and didn't leave any oiliness. However, for bigger tummies/ twins/triplets, Mama Mio advise using the oil followed by the butter for extra lock-in of moisture.
As with the other products, it too was mildly scented and easy to apply without being greasy. The tub gives a generous amount which should last all the way through your pregnancy plus further months to avoid those stretch marks!
PWT rating: ♥♥♥♥♥
Currently all three products are on special offer on the Mama Mio online shop.