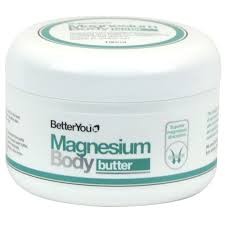 BetterYou Magnesium Skin Body Butter recently won the "Best New Natural Skincare Product" at the Natural and Organic Awards 2018, part of the Natural and Organic Products Europe Show (NOPE).
Developed by health pioneers BetterYou, this innovative newly formulated Magnesium Skin Body Butter offers a luxurious experience, using skin-kind ingredients to restore the body's balance of magnesium within skin cells and beyond, allowing the skin structure to form, function and detox.
A nourishing and powerful blend of shea butter, cocoa butter, vitamin E and BetterYou MagnesiumOil. Used daily, it helps revitalise and re-energise skin performance and elasticity.
So what did I make of it? BetterYou Magnesium Skin Body Butter is a thick moisturiser and a little goes a long way. You need to massage this cream into your skin as it doesn't absorb quickly. I found this in itself had a therapeutic effect and certainly the skin on my arms and legs (which tend to dryness after the long winter we've had) have benefited.
I am also susceptible to patches of eczema and, as BetterYou Magnesium Skin Body Butter is formulated for sensitive skin, found this really helpful.
PWT rating: ♥♥♥♥♥
BetterYou Magnesium Skin Body Butter is available to purchase at www.betteryou.com Holland and Barratt and all good health stores.