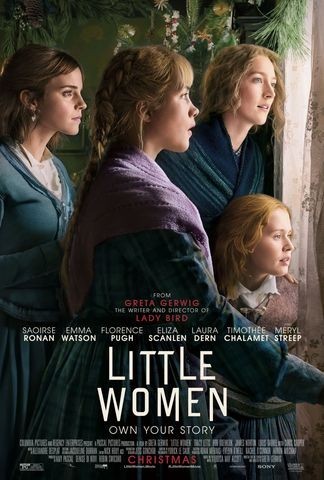 Greta Gerwig's film adaptation of Louisa May Alcott's classic novel, Little Women, is a triumph. Both the book and film follow the lives of the four March siblings – Meg, Jo, Beth and Amy – as teens during the civil war era of Massachusetts and as young women.
The family's reduced circumstances are highlighted by their rich aunt, a memorable cameo from Meryl Streep who is determined that one of the girls should marry well – that is for money – but "Marmie" (Laura Dern as their mother) keeps her daughters' feet on the ground making them aware of the misfortunes of others less well off.
I loved reading Louisa May Alcott's Little Women (and went on to read Jo's Boys and Little Men) and like many writers/authors identified with Jo the aspiring writer. In the book and the film Jo achieves her dream and there are some wonderfully witty scenes between Jo – Saoirse Ronan – and her publisher – Tracy Letts.
Of the other sisters Emma Watson (Meg), Eliza Scanlen (Beth) are fine but Florence Pugh is a brilliant Amy both as a stroppy teen and a wiser married woman. Of all the characters the one I found least convincing was Timothée Chalamet who played Laurie. He seemed far too young and unlikely to inspire love in two of the sisters. However it was lovely to see James Norton as his tutor, and Chris Cooper as his grandfather.
Some fabulous laugh out loud moments are tempered by truly moving scenes (you may need a tissue or two). I must have seen a previous adaptation of Little Women but this one from Greta Gerwig who also wrote the script is vibrant and accessible with the narrative played out on two timelines to keep you on your toes.
PWT rating: ♥♥♥♥♥
Little Women is showing in cinemas now.