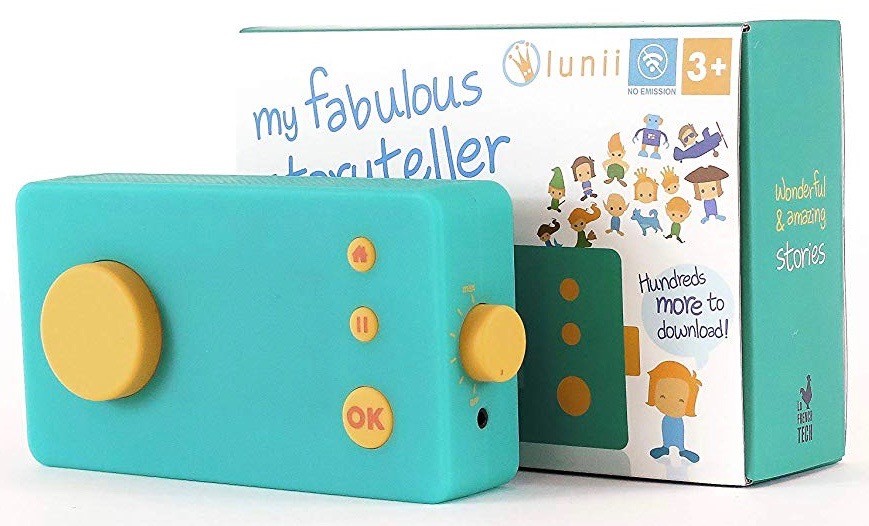 Lunii's My Fabulous Storyteller is an interactive audio storytelling experience for children aged three to eight. It is a screen-free entertainment system (with no EMF emissions) designed to stimulate children's imagination. It comes with 48 stories and access to the Luniistore (Lunii's online audio store) where over 1500 more stories, rhymes and quizzes are available to purchase across nine different languages.
My Fabulous Storyteller is similar in size to a paperback and is easily handles by small hands. The finish has a lovely silky feel to it and the buttons to operate it are perfect for little fingers. The device can hold up to ten story albums each of which can contain between six and 48 stories, adding up to more than 14 hours of listening. The sturdy design is just right for children and can be used with headphones, so can be used anywhere, anytime.
By using the selection wheels on their My Fabulous Storyteller, children can build their own stories, choosing whether to follow the tale of a hero or a heroine, as well as picking the secondary character, setting and object.
An online bookshop, the Luniistore, is a computer application that enables you to buy and upload original Lunii content. There are more than 1,500 stories across nine different languages available on the Luniistore. Once albums have been purchased, simply plug in My Fabulous Storyteller to a computer via a USB cable (supplied) to load them. When the Storyteller is full, purchased stories aren't lost – they are still stored on your Luniistore account, and can be listened to again at any time.
The Luniistore offers original content adapted to different age groups, following the adventures of pirates, magical kingdoms, good night stories amongst many others. Plus a partnership with Petit Bambou brings the inclusion of My Little Meditations, six guided meditations whihc help a child's concentration.
The Luniistore also includes Roger Hargreaves' much loved Mr Men and Little Miss classics – with a key focus on sound design to replace the stories famous illustrations.
Lunii's stories are written with an aim to stimulate children's imaginations in an active, engaging way. Alongside treasured bedtime stories and family time, Lunii helps to develop children's vocabulary, encouraging curiosity and inspiring animated, creative thinking by putting children in control of their stories.
My Fabulous Storyteller can be recharged using the USB cable.
PWT rating: ♥♥♥♥♥
In the UK, Lunii is now available in Harrods, Selfridges,in other independent shops and Amazon.
Lunii-1-EN My Fabulous Storyteller-Children Craft Their own Audio Stories-Screen-Free Educational Toy