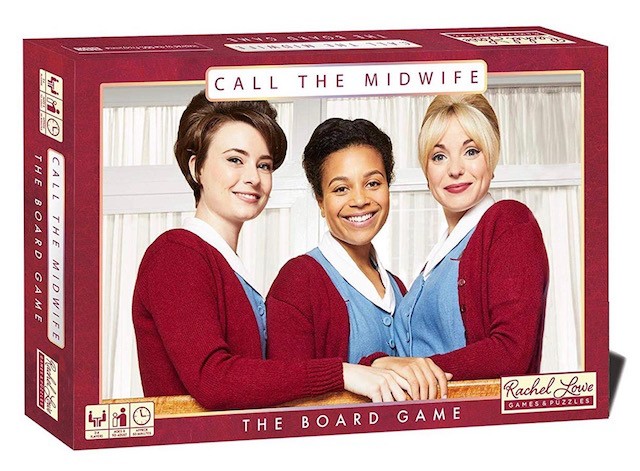 Call The Midwife has been an amazingly successful BBC television series charting the lives of midwives and nuns from Nonnatus House working in Poplar, East London during the fifties. Lots of pathos and tear-jerking moments – perfect for a family board game.
The gameplay is easy to pick up: two to four players, roll the die, collect cards and deliver babies in all sorts of locations as the women of Poplar go into labour. Will you – as one of the nurses Lucille Anderson, Valerie Dyer, Phyllis Crane or Trixie Franklin – get there on time or or will you be required to divert to the Surgery to assist Dr Turner? Or get a puncture in out bicycle tyre or forget your delivery pack?
It's a race against the clock to get back to Nonnatus house to find out where your next delivery will be. The midwife to deliver the most babies is – predictably – the winner and the game usually takes about 50 minutes to complete and is suitable for ages eight to adult.
This is the ideal Call the Midwife Gift for any fan and presents a fun way to join your favourite characters.
PWT rating: ♥♥♥♥♥
Call The MidWife | Board Game Red
is available from Amazon.
The Call the Midwife board game has been developed by Rachel Lowe and faithfully follows the drama of the TV Show. For more gift ideas fro games and puzzles visit Rachel Lowe.