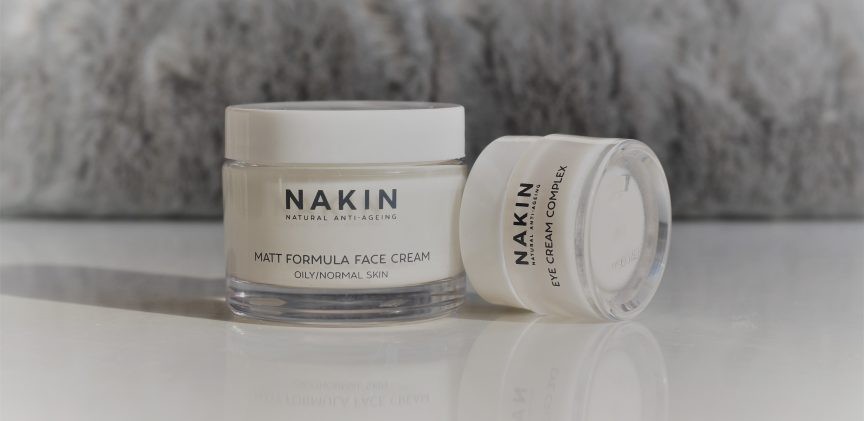 British, natural and effective Nakin is an exciting new brand that produces high performance natural anti-ageing skincare, a modern fusion of cutting edge dermal science with advanced natural formulations.
Nakin is an aspirational brand with huge market and an accessible mid-range price point. The range has been developed with powerful natural anti-agers such as Hibiscus, Pomegranate and Hyaluronic Acid. The advanced formulations offer a natural solution to combating common skin issues such as lines, uneven skin tone, dullness and dehydration.
The collection includes eight essential face products which are gentle and suitable for sensitive skin. The range is made in the UK and cruelty free, meeting the Leaping Bunny standards.
Nakin's natural skincare is formulated without undesirables such as Parabens, SLS, Petrochemicals, artificial fragrance and colour, PEGs and Propylene Glycol.
Advanced Cleansing Milk 150ml/£15
Purifying Face Toner 150ml/£15
Matt Formula Face Cream (oily & normal skin) 50ml/£20
Active Dew Face Cream (normal & dry skin) 50ml/£20
Eye Cream Complex 15ml/£18
Lip Treatment Balm 15ml/£10
Performance Face Serum 50ml/£25
Revitalising Face Oil 50ml/£22
I tried the Performance Face Serum and Matt Formula Face Cream. Two pumps of the serum covered my face and neck so this is cost effective as is the cream. Both used in conjunction left my face feeling soft and nourished.
The packaging is plain and no-nonsense and everything can be recycled.
PWT rating: ♥♥♥♥♥
Nakin is available online www.nakinskincare.com and from selected stockists, including Ocado.