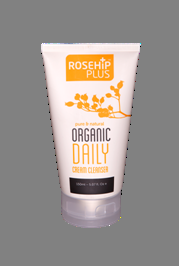 All products are certified organic and are cruelty free. I have used these products for the last ten days. I have eczema prone freckly skin. I used the cream cleanser night and morning.
At night after the cleanser I used the Rosehip Oil, and in the morning after cleansing the Rosehip Oil followed by the hydrating day cream. I had some concerns that my skin might react or break out but these were unfounded, and the products were a pleasure to use.
Daily Cream Cleanser
The cleanser can be massaged into dry skin which I liked. It has a pleasant perfume, and is easy to apply massaging in well and then rinsing off easily with warm water. It left no residue and my skin felt soft and moisturised with no tightness which I have experienced with other wash off cleansers. Also it removed mascara very well and was very gentle on the delicate eye area. This was my favourite product of the three.
The RosehipPLUS Daily Cream Cleanser, 150ml, £19.00
PWT rating: ♥♥♥♥♥

Rosehip Oil
This was packaged in a small bottle with an easy to use dropper. Only three or four drops are required to massage into the face.I have not usesd an oil on my face before, and did wonder if I might be left glowing. I also have an oily T zone which I thought might not be receptive to more oil. My fears were unfounded. The oil massages in well on all areas and left my skin feeling soft and supple. it also proved to be a receptive base for the hydrating day cream in the morning. I found the perfume of the oil rather odd.
RosehipPLUS Rosehip Oil 15ml for £10.00, 30ml for £15, 50ml for £25
PWT rating: ♥♥♥♥♥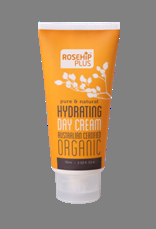 Hydrating Day Cream
This cream was light with a pleasant scent similar to that of the cleanser. It was easy to apply and absorbed well with no residual shine. My skin felt soft and hydrated all day even in an air conditioned environment. A colleague commented on my skin looking fresh. Some sunscreen in the day cream would have been a welcome bonus.
The RosehipPLUS Hydrating Day Cream, 75ml, £24.00
PWT rating: ♥♥♥♥♥
RosehipPLUS range, hot off the shores of Australia is now available from John Bell and Croydon, www.treatyourskin.com, www.allaboutbeauty.com and www.thefragrancecounter.com.