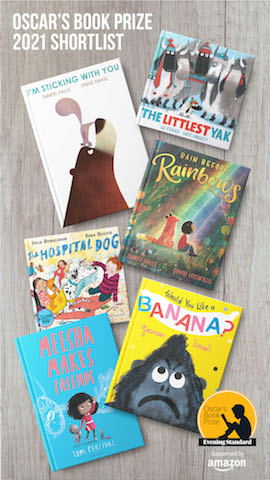 Oscar's Book Prize has announced the 2021 shortlist, with six books making it through to the next round following the highest number of entries recorded to date, up 12 per cent from 2020.
Celebrating the best in storytelling for under-fives, this announcement follows one of the most difficult years where children spent more time at home than ever before. This coincides with news released from the National Literacy Trust reporting that a third of adults have been reading with their children (aged five and under) more than ever since the beginning of the COVID-19 pandemic – affirming the important work by early-year authors to educate, inspire and spark joy.
To recognise and reward the vital work by early-years authors and illustrators in encouraging young children to read, this year's prize fund has doubled in size. Now in its eighth year, Oscar's Book Prize celebrates the best in storytelling for under-fives, crowning the UK's best picture book. The prize was created to remember Oscar Ashton, who was three-and-a-half when he died from an undetected heart condition in 2012. It is supported by Amazon, the National Literacy Trust and the Evening Standard.
This year's shortlist was chosen by a judging panel including TV presenters Lorraine Kelly and Angellica Bell, renowned children's illustrator Axel Scheffler, and Simon Johnson, Amazon Director of EU Books. Oscar's Book Prize co-founder Viveka Alvestrand, who set up the literary award in memory of her son, completes the line-up.
Submissions were of such high quality this year that the judging panel recognised six rather than the usual five books. The exceptional stories on the 2021 shortlist feature characters as diverse as yaks, dogs and bears, and settings that range from mountain tops, hospitals and schools. They all share strong and inspiring themes of friendships, co-operation, self-belief and perseverance.
The Oscar's Book Prize 2021 shortlist is as follows:
I'm Sticking with You: A funny feel-good classic to fall in love with
by Smriti Halls and Steve Small (Simon and Schuster Children's Books)
Meesha Makes Friends: A Big Bright Feelings Book by Tom Percival (Bloomsbury Children's Books)
Rain Before Rainbows by Smriti Halls and David Litchfield (Walker Books)
The Hospital Dog by Julia Donaldson and Sara Ogilvie (Macmillan Children's Books)
The Littlest Yak: The perfect book to snuggle up with at home! by Lu Fraser and Kate Hindley (Simon and Schuster Children's Books)
Would You Like a Banana? by Yasmeen Ismail (Walker Books)
Learn more about Oscar's Book Prize.