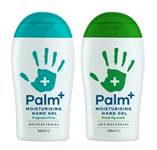 Palm* is a new brand of antibacterial hand gel launched by Amy Wordsworth the founder of children's bath time range, Good Bubble, in response to the increasing demand for hand sanitisers caused by the global coronavirus pandemic.
Palm is a hypoallergenic, moisturising, antibacterial hand gel with over 60 per cent alcohol content that kills 99.99 per cent of bacteria while it cleans, freshens and protects the hands. It is available in 100ml bottles, in either Fresh Fig or Fragrance Free.
The Good Bubble range of children's toiletries featured on Dragons Den in 2014 and received the backing of Deborah Meaden.
Wordsworth said: "As our customers closed their doors due to the pandemic, demand for Good Bubble reduced. At the same time there was a huge demand for hand sanitisers so, as we already had the components in stock and an effective formulation ready, we decided to diversify and were good to go.
"We've created two cruelty free and vegan friendly hand sanitisers that comes in 50 per cent recycled packaging and are now available for pre-order at our new online store. There are 20,000 bottles available, which will enable keyworkers, vulnerable members of the public and those in isolation to buy the hand gel without having to leave their homes."
I love how creative brands are being in response to Corvid-19. I have been using the one with the fig fragrance which I initially wondered if I would like but it's refreshing and pleasant to apply. I keep it at the ready for when I might need to wash my hands but don't want to use soap and water.
My daughter who suffers from intermittent eczema is using the unscented Palm and finds it doesn't leave her hands as dry as some other products.
PWT rating: ♥♥♥♥♥
Palm is available to order online for £2.85 plus P&P while stocks lasts. Please note there is a basket limit of two products per order.
*Palm is tested to BS EN 1276:2009, the European standard for the bactericidal activity of disinfectants and sanitisers as proof of effective infection control against harmful micro-organisms. In order to pass this standard, products have been tested by an independent laboratory and must prove a bacteria kill rate of 99.99 per cent within five minutes.