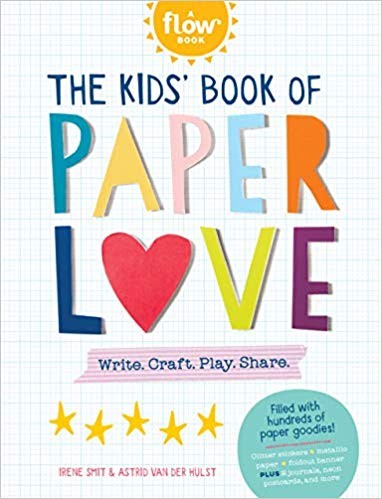 In their first book for children, The Kids' Book of Paper Love, authors Irene Smit and Astrid van der Hulst, the pages overflow with fun and pull-out activities for writing, drawing, folding, crafting, playing and sharing.
This title is from Workman Publishing – a company which produces fabulous books, some of which still take pride of place on our bookshelves. Like many of their books this one takes children on a creative journey from making a paper chain to a foldable house, sharing fruit-shaped gift tags to a fold-out banner. A book to dip into and be inspired by – as the cover says: "A surprise on every page."
The book is divided into four chapters: Write, Craft, Play and Share and is perfect for parents who need some inspiration for creative projects for their children. Some dexterity is involved and the suggested age range is seven plus.
Irene Smit and Astrid van der Hulst are the creative directors of Flow magazine, an international publication celebrating creativity, mindfulness and life's little pleasures, based in the Netherlands.
This is a beautiful book to give with love.
PWT rating: ♥♥♥♥♥
Kids' Book of Paper Love, The (Flow)
by Irene Smit and Astrid van der Hulst is available from Amazon and bookshops.