This Christmas Therapie Life gifting is all about taking care of you and those you love. Small and detailed rituals that can help to lift and sustain our spirits. This collection encourages you to learn the benefits of taking time out to repair and restore by taking a few precious moments of stillness combined with luxuriating in a relaxing ritual that transports your body, mind, and spirit.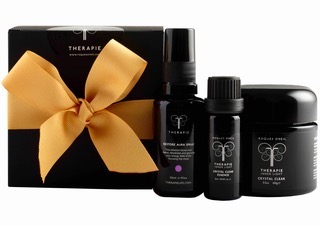 Desk Top Rescue Life Kit £39
Crystal Clear 110g & 5ml Restore Aura spray 30ml
I was sent this kit to try. Billed as a "fragrantly reviving aromatherapy duo to clear away your mental and creative cobwebs whilst you mentally rebalance. These must have desk top essentials will transform productivity and mental clarity."
Immediately I fell for the Amethyst and Quartz crystal smelling salts. Fabulous to inhale deeply three to five times or to leave the opened jar on your desk for a while for maximum benefits.
The set comes with a concentrate to replenish the jar every two to three weeks.
Also included is their Restore Aura Spray which soothes and hydrates skin when traveling or sitting too long at your desk! Just spitz your face with this delicate mist, breathe in deeply and hold before breathing out. A real treat.
PWT rating: ♥♥♥♥♥
Other Kits you might want to use or give as gifts:
Blissful Slumber Life Kit £35
Himalayan Detox salts 100g Sleep Drops 10ml
Slumber pillow spray 30ml
Discover Me Life Kit £44
Boost 100ml
Equilibrium Bath & Shower 30ml Cherish skin Repair Elixir 30ml Restore Aura spray 30ml
Inner Fortitude Life Kit £68
Protect 100ml
Comfort Warming Rub 50g Strength Tea 30g
Pampered Soul Life Kit £78
Cocoon Bath Oil 100ml
Cherish Skin Repair Elixir 100ml
Therapie Essentials Stocking Fillers from £10 + GIFT WITH PURCHASE
Therapie Life essentials offer generous 30 ml miniatures, enough for five baths, endless spritzes and enough vital oil to massage. There's a special bonus-a free sachet of their award-winning Himalayan Detox salts depending on how many of this collection you choose.
Choose any THREE 30ml Therapie Essentials and get a free Himalayan Detox salts 100g
Choose any FIVE 30ml Therapie Essentials and get a generous free Himalayan Detox salt refill 500g
Available from Therapie Life