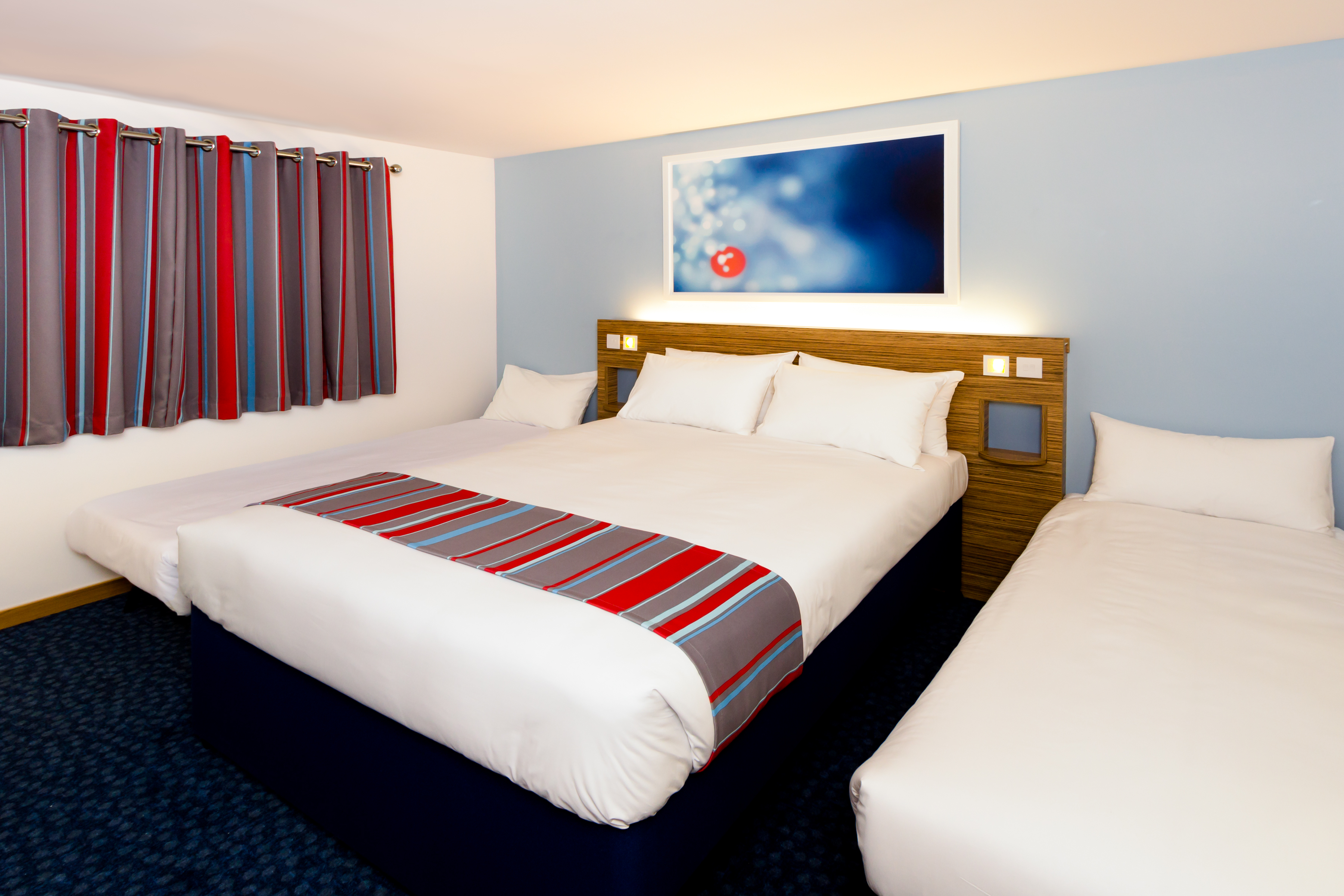 Harriet and I went to Manchester as we were guests at the recording of the CBeebies Christmas Show Peter Pan at Salford Quays. This coincided with various other events going on in the city and so we were unable to be accommodated at the Salford Quays Travelodge but stayed at the Manchester Central Arena instead. The location on Great Dulcie Street is hardly picturesque but it's a short walk to Deansgate for restaurants and shops.
In contrast to its surroundings, Manchester Central Arena is bright and clean and the staff are friendly and welcoming. Travelodge has recently embarked on a strategy to become Britain's favourite hotel for value and as part of this has installed more than 37,000 new bespoke king size Travelodge Dreamer beds. In fact as we entered our double room the bed dominated the space.
What would also have been useful would have been bedside tables as there was only as small inset shelf. However, Harriet and I were very comfortable in the bed. There was adequate hanging space but no drawers which isn't a problem for a short stay.
As part of the new deal Travelodge have introduced in-room toiletries: a soap dispenser by the hand basin and one in the shower for body and hair. You'll still need to take conditioner and the dispenser by the sink was placed too far back for smaller children to reach. A welcome addition to the bathroom (we had a shower but no bath) would be a hand towel.
The hotel chain has also reduced prices for wifi to an initial free period of 30 minutes and £3 for up to 24 hours but I imagine that with the proliferation of free wifi in cities and restaurants etc this will also soon be totally free.
The surprise for me, never having stayed in a Travelodge before, was the bar with comfortable sofas, plus snacks and meals were also available. Our booking included breakfast (this is a better deal if you include this in your initial booking rather than pay for on the day) which was a buffet from which you could eat as much as you liked. There is enough choice to allow for even picky eaters and children enjoy the bread toaster – supervised of course.
Travelodge provides good value accommodation for families with prices beginning at £39 per room – perfect for half-term getaways and short city or seaside breaks.
PWT rating: ♥♥♥♥♥