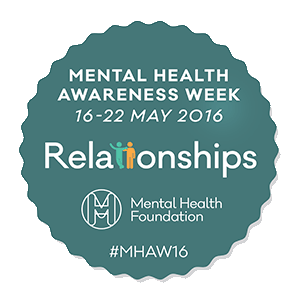 During the 16th Mental health Awareness Week, the charity is asking us to focus on out relationships. Good relationships are key to our health and happiness.
Research has shown that people who are more socially connected to family, friends, or their community are happier, physically healthier and live longer, with fewer mental health problems than people who are less well connected.
However it is the quality of those close relationships which is crucial not the number of friends you have, or whether you're in a committed relationship. Living in conflict or within a toxic relationship is more damaging than being alone.
As parents we need to build and maintain our own good relationships within the family and in our communities as an example for our children. This is just as important as taking exercise and not smoking.
Put time aside to nurture important relationships.
Try to be present for your family and loved ones – not checking emails/Facebook/Twitter.
Listen to and concentrate on your child's/partner's needs at that moment in a non-judgemental way.
Share how you are feeling and allow others to help and support you.
Recognise unhealthy relationships and look for solutions.
If you or someone close to you needs help contact your GP, the Samaritans or someone you trust to be able to guide you.
Find out about what is going on in your area.