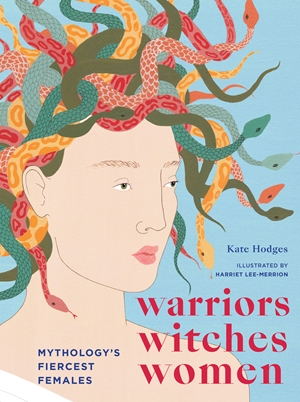 Meet 50 of mythology's fiercest females in this fascinating retelling of some of the world's greatest legends chosen, says author Kate Hodges in her introduction, because "they have the skills and character traits we can all aspire to, who are positive and strong and who, despite having a few millennia behind them, still feel modern and fresh."
So you can find your own favourites from the five categories:
Witches
Warriors
Bringers of Misfortune
Elemental Spirits
Munificent Spirits
Each of them is given a short introduction within a modern context and then a double page about their legend, retold and updated by the author and accompanied by a fabulous illustration by Harriet Lee-Merrion.
A personal favourite of mine has always been Cassandra (in the Witches chapter) whose most well-known prediction was to warn the people of Troy that the "gift" of a wooden horse was a trick... her refusal to be silenced has since inspired campaigners and those working for justice thousands of years later. And I also found fascinating the reinvention of Jezebel.
Kate Hodges places each heroine, rebel and provocateur firmly at the centre of their own narrative and this is a perfect book to dip into if you are looking for inspiration. The narratives are beautifully written, lovingly recreated.
There's a short glossary and suggestions for further reading as well as a Mythological Women Playlist.
Our review is published on International Women's Day and this book would also make an interest gift for Mother's Day.
PWT rating: ♥♥♥♥♥
Published by White Lion Publishing, Warriors, Witches, Women: Mythology's Fiercest Females
by Kate Hodges is available from bookshops and Amazon.