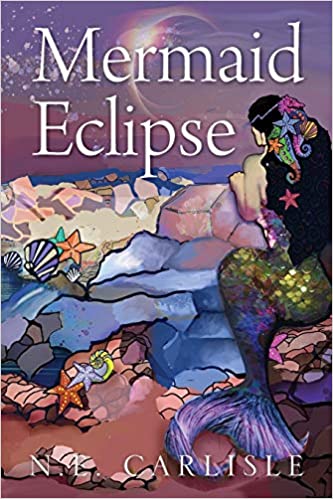 A wonderful adventure story for teens and young adults, N E Carlisle's Mermaid's Eclipse explores a family curse, mermaids and the lore of the sea.
So many themes to intrigue and capture the reader's imagination! Mermaid's Curse is narrated by Muriel who has an uncanny connection with her twin brother Morgan. Together they are trying to support their cousin Brooke whose mother, Mallory, died in mysterious circumstances in a boating accident. Their father has found it hard to come to terms with his loss as well as his wife's deteriorating health.
Then they discover there is more to their aunt's death and set out to uncover the truth about their family. What they learn overturns everything they believe to be reality – it is just an illusion, and they must rely on each other and their faith to keep their family together.
The one constant is their twin connection and the ocean…
Narrated by Muriel, Mermaid's Eclipse is beautifully written and totally engaging. The tone is just right, the twists will keep the reader hooked, perfect for any young adult interested in mythical creatures and the lore of the sea.
PWT rating: ♥ ♥ ♥ ♥ ♥
Published by Outskirts Press Mermaid Eclipse
by N E Carlisle is available from Amazon and bookshops.