Wes Anderson, The Iconic Filmmaker and His Work, by Ian Nathan
Most people will have seen at least one of Wes Anderson's films (Grand Budapest Hotel, The Royal Tenenbaums, Isle of Dogs or Fantastic Mr Fox to name just some of them). And if you've seen a Wes Anderson film, you will have remembered it – for its bizarre plot or its striking images. All of Wes Anderson's films to date are covered in detail in Ian Nathan's book but It's not only for movie fans; children, for example, will love the behind the scenes pictures and stories from the making of Fantastic Mr Fox or Isle of Dogs.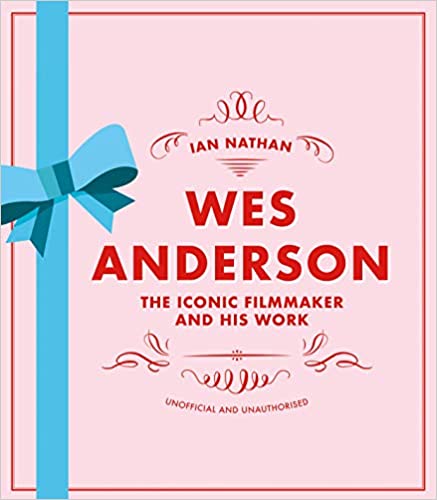 The illustrations in this book are great – there are photos and stills from Wes Anderson's films and his life, all in vibrant colours. And there are one, two or even three illustrations on very nearly each of its 176 pages. The author has clearly done an enormous amount of research, all written it up into very entertaining tales and sections. (The book is unashamedly "unofficial and unauthorised" but all sources and illustrations are credited and acknowledged.)
Ian Nathan's book takes the reader through Wes Anderson's life and films, linking the two together. There are stories of Wes Anderson's early life: imagine how he felt when, as a child, he found a self-help book his parents had bought, "Coping with the Very Troubled Child." His great grandfather was Edgar Rice Burroughs – author of the Tarzan stories.
The book goes on to discuss each of Wes Anderson's films, revealing the origins and inspirations for each one but also showing how the films are extensions of Wes Anderson's own life and personality. There are extra standalone segments and lists too, for example, there's "Wes Anderson Bingo" - actually a guide to the filmmaker's visual motifs. And there's a handy checklist for film lovers of the key influences on Wes Anderson.
This book, a lavishly Illustrated hardback, makes a great present – if you can bear to part with it. Mine arrived in a presentation box. It's both a great read and visually stunning. The author compares the film experience of Grand Budapest Hotel to "going down the rabbit hole" into the strange and delightful world created by the director. I would say this book takes you to places at least as entertaining as Alice's Wonderland.
PWT rating: ♥♥♥♥♥
Wes Anderson: The Iconic Filmmaker and his Work - Unofficial and Unauthorised
is published by White Lion Publishing and available from Amazon and bookshops.
Lesley Lodge is the author of Lights! Camera! Gallop!: The Story of the Horse in Film
available from Amazon as a paperback and ebook.