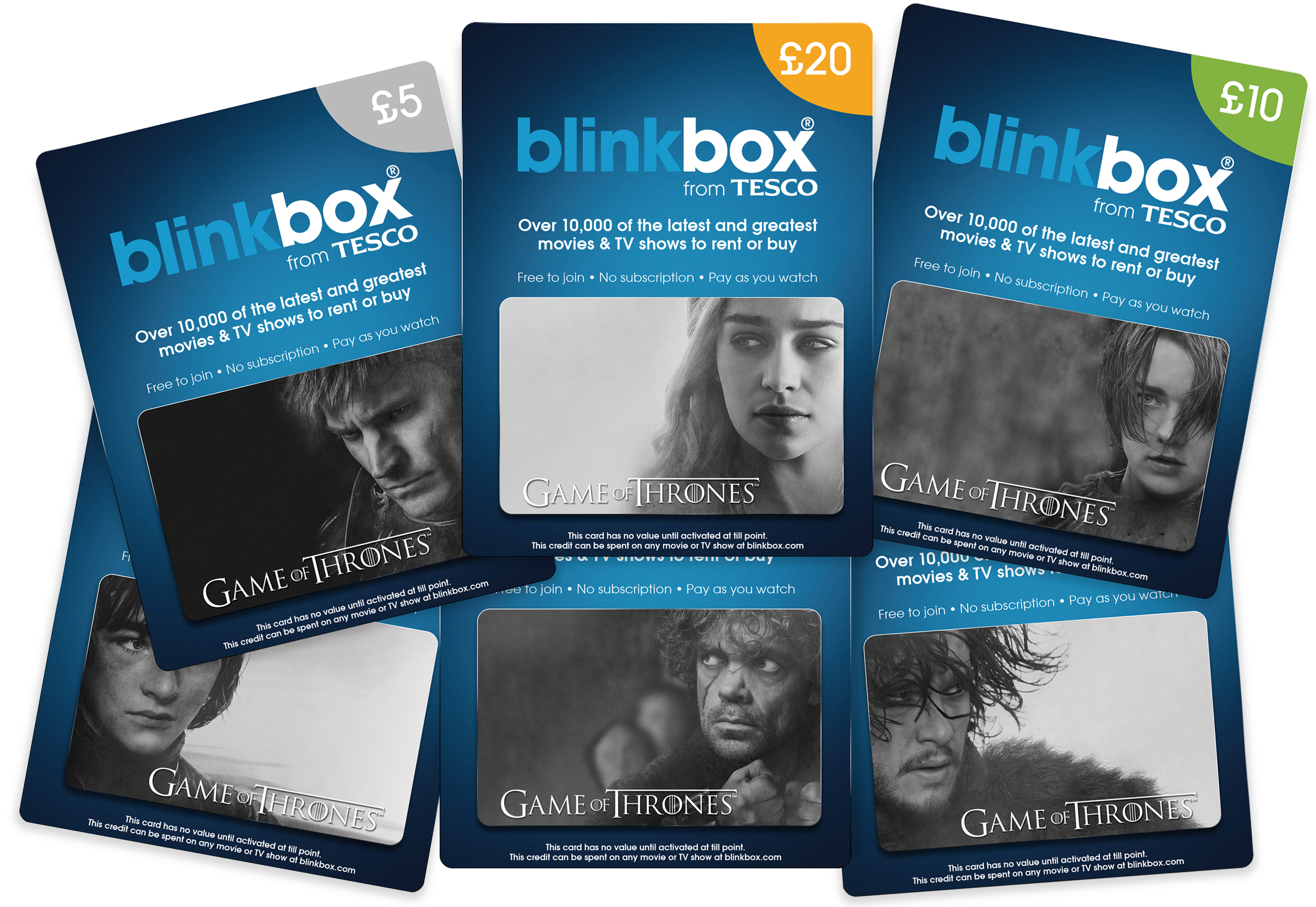 The Game of Thrones £5, £10 and £20 cards are now available to buy in all Tesco Extra stores throughout the UK.
Choose from six designs featuring key Game of Thrones characters: Daenerys Targaryen and Tyrion Lannister (£20 denomination); Jon Snow and Ayra Stark (£10); Joffrey Baratheon, and Jamie Lannister (£5).
From hit movies Wolf of Wall Street and 12 Years a Slave to the most talked about TV shows including True Detective, Hannibal and Breaking Bad, there are loads of great titles to spend credit on. Plus, June sees the arrival of The Grand Budapest Hotel, Dallas Buyers Club and Robocop.
If you buy the latest series of Game of Thrones with your card, you'll be rewarded with 1,000 Clubcard points PLUS a free Tesco Finest 10" pizza. For those who haven't yet been gripped by the popular HBO show, there's an additional incentive as blinkbox are giving away 250 Clubcard points with the purchase of any of the previous three series.
Clubcard points can be transferred into vouchers to spend with Tesco online, in-store, on fuel or exchanged to get four times more value with Clubcard Boost.
Activating a card couldn't be easier. Visit blinkbox.com/redeem and follow the on screen instructions.
Once redeemed, enjoy a world of entertainment across a range of internet connected devices including games consoles, tablets, Smart TVs, Blu-ray players, set top boxes and PCs/Macs.
For the pizza, blinkbox will email a voucher to the customer following the purchase of Game of Thrones Season 4 which can be printed out and taken into a local Tesco store to be redeemed at the checkout.