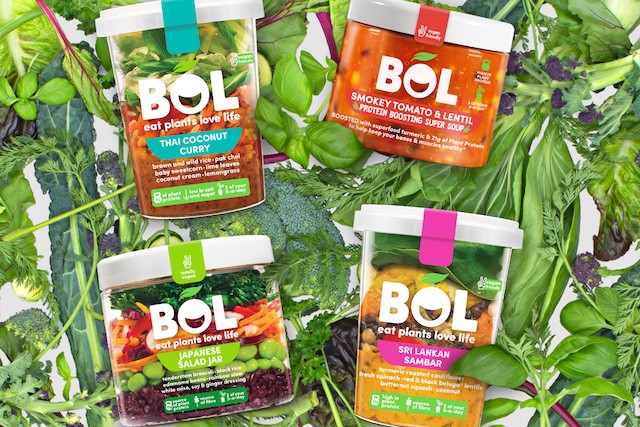 BOL Foods has announced that it will be removing dairy from all of its products this June (following its drop of meat and fish in 2017), becoming 100 per cent plant-based and the first FMCG brand in the UK to do so.
Dropping all dairy means that six of BOL's current recipes will be reinvented to be entirely plant-based. The new globally-inspired recipes will be as colourful, nutritious and delicious as ever, developed in collaboration with a series of chefs and award-winning nutritionist Ian Marber to guarantee both health and flavour.
As someone who eats chicken and some fish but is dairy intolerant, this was music to my ears. I am not a great fan of ready-meals but had never before tried any BOL products. However having sampled:
South American Veg Chilli
Japanese Salad Bar
Sri Lankan Sambar
Sweet Potato and Cauliflower Soup
Sweet Potato Chilli
they have become one of my favourite foods. I treat myself to the Japanese Salad Bar as a go-to meal when I'm writing and can't spend time cooking. These pots are also great for when you're travelling or at work. Love them!
PWT rating: ♥♥♥♥♥
The Veg Pot range can be found in Tesco, Sainsbury's, Waitrose, and on Ocado and Amazon Fresh. RRP. £3
BOL also has two other product ranges; Salad Jars & the recently launched Super Soups
The Salad Jar range can be found in Waitrose, WHSmith, Planet Organic, As Nature Intended, Wholefoods, Ocado and Amazon Fresh. RRP. £3.50
The Soup Jar range can be found in Tesco, Ocado and Amazon Fresh. RRP. £2.75
BOL partnered with Action Against Hunger and donated 100 per cent of their year one profits. Action Against Hunger | ACF International is a global charity committed to saving the lives of malnourished children in over 40 countries.