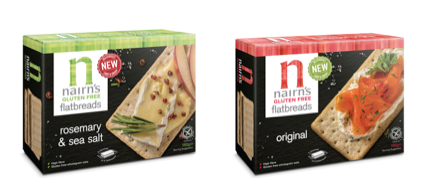 It used to be that products for special diets were often unappetising and no one else would chose to eat them. Not so with Nairn's Gluten Free Flatbread which, made with wholegrain oats, are deliciously light and crispy and make a perfect alternative to a lunchtime sandwich. Olivia absolutely loved them and so do I so it means we only need to buy one variety of crispbread to satisfy us both.
Available in two tempting flavours – Original and Rosemary & Sea Salt – Nairn's Gluten Free Flatbreads are bigger than a cracker so are large enough to give lots of room for your favourite topping. Make them your new lunchtime go-to and get creative: layer on cream cheese and smoked salmon, cheese and chutney or mozzerella, tomatoes and avocado with a drizzle of olive oil. Or, they're just as good as an accompaniement to soup, a salad or your choice of dip.
Nairn's Gluten Free Flatbreads are made with simple, natural ingredients and pure gluten free oats, making them ideal for those who suffer from coeliac disease or who choose to follow a gluten free diet. At 55 calories per Flatbread, these are great for anyone looking to cut down on bread. Conveniently packed in handy pouches of six, Nairn's Gluten Free Flatbreads stay fresh as a store cupboard staple or can be taken with you for lunch out of home.
PWT rating: ♥♥♥♥♥
Nairn's Gluten Free Flatbreads are available exclusively from Sainsbury's for an RRP of £1.75 (150g)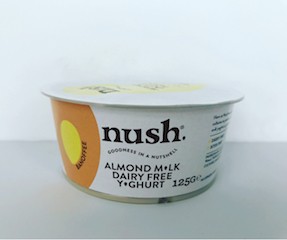 Similarly if you thought dairy-free was bland, then think Nush, the UK's first nut milk yoghurt, has added the most indulgent-tasting addition to the range yet – Banoffee Nush!
Taking inspiration from one of the UK's favourite desserts, Banoffee Pie, Nush has turned this firm family favourite into a creamy, dairy-free yoghurt. Premium quality almond milk is mixed with real banana puree and Nush's very own toffee sauce, made from natural coconut sugar and coconut milk, to re-create the delicious flavour of the dessert in a 125g pot. Indulgent, highly nutritious and natural, we promise you will love it!
Enjoy new Banoffee Nush as a tempting dessert, a wholesome on-the-go snack or satisfying breakfast, especially when dolloped over fresh fruit or granola.
I really enjoyed this as a handy dessert.
PWT rating: ♥♥♥♥♥
Banoffee Nush is £1.99 (125g), available from Whole Foods and As Nature Intended