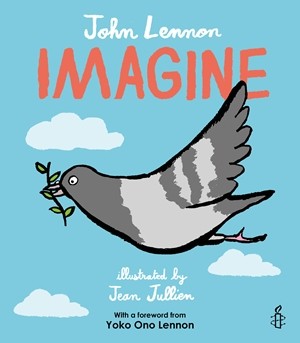 Created with the blessing of Lennon's wife, Yoko Ono Lennon who has written a foreword to the book, IMAGINE brings to life the enduring message of peace and unity of the iconic lyrics.
A little pigeon has a massive mission – to spread the word about peace, friendship, kindness, understanding and freedom around the world inspired by the words of John Lennon's song. Jean Julien's simple and engaging illustrations appeal to children and adults alike as the words and theme resonate with all generations.
This message reflects the work of Amnesty International which works to protect our human rights, promoting core values such as fairness, truth, equality, love home and safety, and royalties from the sale of this book will be donated to the charity.
A beautiful and longer-lasting alternative to an Easter egg.
PWT rating: ♥♥♥♥♥
Imagine - John Lennon, Yoko Ono Lennon, Amnesty International illustrated by Jean Jullien
published by Frances Lincoln Children's Books, an imprint of The Quarto Group, is available from Amazon and book shops.